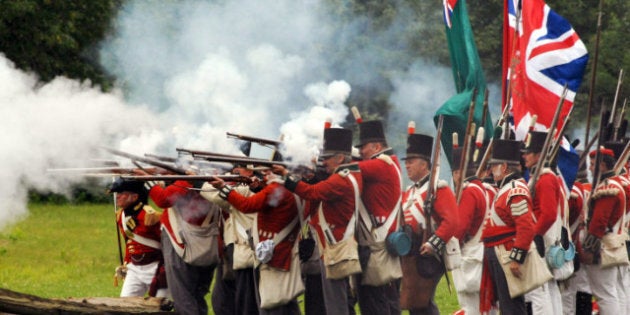 Canada's wars resonate with our family. In Flanders Fields, my grandfather's kid brother Adrian was killed on Jan. 19, 1916. His older brother Ernie won the Military Cross in the Great War, but for the rest of his life Ernie limped from a machine gun bullet in the leg.
Their sister Regina was a Sacred Heart nun sent to teach in Japan. During WWII, she was interned just outside Japan's most Catholic city, Nagasaki. On Aug. 9, 1945, she experienced the dropping of the atomic bomb. "It was as if the sun had burst, and I was in its midst." She was never the same after the horror she witnessed.
In the Second World War my mom's favorite cousin, Archy Macdonell, joined Bomber Command. RCAF Flight Sgt. Macdonell perished with five comrades when their fully-loaded Wellington Bomber crashed into an English hillside just after midnight on June 24,1942.
The family tradition endures. My nephew, Major Chris McKenna, distinguished himself during two combat tours commanding and piloting helicopters in Afghanistan.
My battles are fought with a camera and a typewriter, documenting these wars for future generations.
Now my Remembrance Day encompasses another war, closer to our borders. The 1,000-day war, that commenced on June 18, 1812 .
Officially Ottawa does not count the War of 1812 as part of our creation story. But surely this short and brutal conflict should bear as much weight as any battle fought in the fields of Flanders.
My mother's family is the Scottish clan Macdonell. In the late 1700s, they settled Glengarry County in the fertile St. Lawrence River Valley, on land gifted from the Crown. Their roots were deep. Even generations later, many, like my Aunt Isabel, still spoke Scottish Gaelic.
It must have been a shock when the Americans unleashed the dogs of war, invading Canada in 1812, determined to seize Canada's rich farmland. They also aimed to annihilate the Indian people who, under their charismatic Chief Tecumseh, had made common cause with us.
General Isaac Brock commanded Upper Canada. Vastly outnumbered on every front, Brock struck a strategic deal with the First Nations. He promised Tecumseh that if they prevailed together in the war, then the British would carve out an independent Indian territory east of the Mississippi, kept safe from American encroachment.
In the first months of the war, General Brock was killed repelling an American invasion force at Queenston Heights near Niagara Falls. Tecumseh, tracked like Che Guevara, was killed by U.S. cavalry at the Thames River on Oct. 5, 1813. The dream of an independent Indian state died with those two leaders. But as the war reached a climax, the fate of the Canadas was still in the balance.
It is a haunting coincidence, for a crucial battle of that war -- Crysler's Farm -- was fought on the day we choose as Remembrance Day, November 11. The Nov. 11, 1813 battle became the last serious U.S. attempt to capture Lower Canada. It is a significant day to remember.
An American army of some 16,000 soldiers came by gunboat and by marching down the St.Lawrence from the New York side of Lake Ontario. They landed near Cornwall, Ont. They outnumbered the Canadians at least nine to one. The Canadians were a combined force of British Redcoats, Canadian militia, and Mohawks.
My mother's Catholic clan Macdonell heard the call to arms as part of the Dundas and Glengarry militia. The Americans despised Catholics almost as much as they detested Indians.
The Americas promised to execute any Canadian caught fighting with the First Nations. If anything this stiffened the defensive resolve of many French Canadian Catholic militiamen, another significant force gathering in the fields. With bagpipes skirling, armed with muskets, bayonets and sabers, lances and pitchforks, Macdonells named Angus and Ranald. Archie, Hugh, Duncan, and Big Duncan --alongside a band of Mohawks -- set out to drive the Americans back across the river.
The historian John Eisenhower, son of the president, told me that the War of 1812 was America's first Vietnam. The Americans had bigger guns and larger better-equipped army. But the Canadians, like the Vietnamese, were defending their own farmlands and villages. The Americans were fighting a war of conquest. The Canadians were fighting a war of survival.
How went the day? It was a battle fought over freshly plowed fields, skirmishes along split rail fences, and ambushes in stands of sugar maples. In a series of brilliant set piece actions, the Canadian forces vanquished the immense U.S. Army. As darkness fell on that November evening, the vast American army was in full retreat, leaving hundreds of dead and wounded behind. Thus ended the last threat to lower Canada.
So on this and every Remembrance day to come, cast backwards to battlefields where our small armies of red coats and Indians, French Canadians and Catholic Scots, faced down and defeated the forces of a growing new empire. When I showed our 1812 series to Pierre Trudeau, he said: "Well done. We beat them then. We may have to do it again some day.