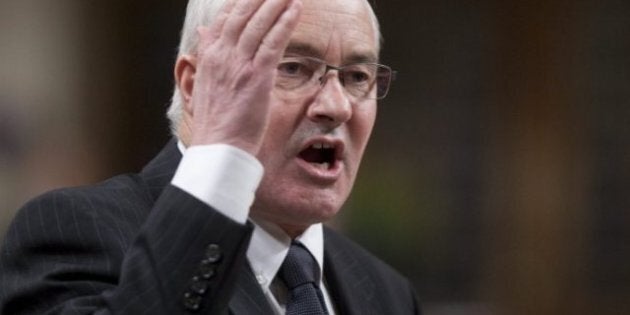 Canada's elected representatives have been kept in the dark over a multi-billion dollar trade deal with the European Union — and Parliamentarians deserve to know what they're signing-off on, Liberal international trade critic Wayne Easter told The Huffington Post Canada Monday.
"The Europeans on any of the discussions, nothing can be finalized unless they vote on it. (European parliamentarians) absolutely must be informed and nothing can be put on the (negotiating) table unless they are informed of it. Then they basically have veto power," Easter said.
"In Canada, it is the direct opposite. We do not know what is going on — other than we do know that there will be another round of negotiations and there is the political framework negotiations. But we are just guessing at what is in them," he said.
On Tuesday, Easter plans to ask his Conservative colleagues — who hold a majority on the international trade committee — Tuesday for support on a motion calling for a full committee briefing on the status of trade talks.
He isn't the only Parliamentarian to acknowledge he knows little about what the government is negotiating with the EU.
Conservative MP David Tilson told a group of European parliamentarians and officials earlier this month during a visit to the European Parliament in Strasbourg, France, that he was "blissfully ignorant" about the political framework agreement.
That document, which is in addition to the massive Comprehensive Economic and Trade Agreement (CETA) that Canada is currently negotiating, covers the entire relationship between Canada and the EU and includes obligations Canada must meet on various fronts such as human rights and the environment.
Sources told Huff Post negotiations began on the framework agreement Monday in Ottawa and continue Tuesday. The parties hope to finish negotiations in early 2012 — at the same time as CETA negotiations are expected to wrap up. While Members of the European Parliament will be asked to vote on both documents, MPs in Canada will only need to vote on the trade deal.
Tilson is the head of the Canada-Europe Parliamentary Association. He was in Strasbourg in early September with Conservative MP James Lunney, Conservative Senator Michel Rivard and Liberal Senator Joan Fraser.
Fraser told Huff Post just before the one-day meeting that she also believes Parliamentarians could be better informed of the discussions, especially CETA which encompasses tricky areas such as agriculture, technical barriers, investment, government procurement, labour mobility and dispute settlement mechanisms.
"These negotiations are conducted strictly in camera and it's very difficult to figure out what is going on," she said.
"It is true that negotiations of this nature cannot work unless they are conducted in camera, you can't do it in public…But I think it would be possible to have multi-partisan groups of parliamentarians struck to consult the public on these issues, and to be kept informed of what was going on in the negotiations, and feed back to the government," Fraser said.
The European Union and Canada will continue talks on CETA in mid-October when they meet in Ottawa for week. Sources tell The Huffington Post that the deal is nearly 90 per cent complete but for the first time, market access is on the table. That includes controversial items such as rules of origins, dairy imports into Canada and beef and pork exports to the EU.
Easter said he believes the "federal Parliament of Canada" should be seeing drafts of what is being negotiated.
"We need all that information presented directly to us so we can intelligently comment on the issues," he said.
"We do know that there has been no net-benefit analysis done by the Government of Canada. But this government is famous for not dealing with facts," he added.
The Liberal Party is concerned Canada is willing to allow European companies to bid on infrastructure contracts right down to the municipal level, as well as easing agricultural tariffs and pharmaceutical patents that could raise the price of drugs in the country, costing taxpayers $2.3 to $2.6 billion more a year if the provinces can't buy generic drugs, Easter said.
He acknowledged that the Conservative majority on the international trade committee — the Tories have seven seats, including the chair, and the opposition have five seats — will make passing his motion more difficult. But he implored his colleagues to support a freer exchange of information.
"Good government will allow committees to do their work: allow them to question, to criticize, to analyze government policy and the issues surrounding government policy. That is what democracy is all about," he said. "So we will see if they (the Conservative members) really believe in doing their job as members of Parliament or if they just believe that as members of parliament their whole obligation in life is to take orders from the PMO."
Easter said he also wants to call Canada's ambassador to the U.S. Gary Doer, International Trade Minister Ed Fast and the Canadian Manufacturers & Exporters association to find out why Canada wasn't ready for the new 'Buy America' policy that U.S. President Barack Obama announced and what the impacts will be.
"We need to get to the bottom of why the government was asleep at the switch," Easter said.
althia.raj@huffingtonpost.com
Popular in the Community