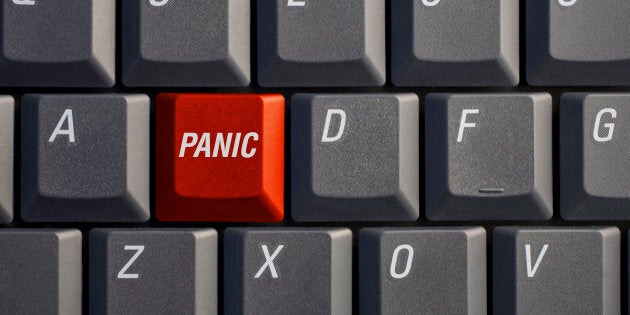 Is it safe to go online after two major ransomware attacks in as many months?
I would bet many would say, 'you've got to be kidding.' Some folks might already be curbing what they do on the Web. However, maybe this fear and loathing is a good thing. Let me explain.
Palpable tension reigns on the Web these days. "Cyberattacks are spiraling out of control," said a man identified as "Old Liberal" who was commenting on a New York Times ransomware story.
To recap, the delightfully named WannaCry ransomware sluiced through the world's computer networks in May, causing mayhem at British hospitals, Spanish utilities, all before spreading to tens of thousands of computers globally.
In late June, the Petya ransomware took root in Ukraine and began replicating through the world's hyper-connected networks. And it was déjà vu all over again: hackers were still exploiting tools stolen from the National Security Agency in April.
A person's computer is not her castle anymore. We are justifiably wringing our hands about the next attack from – allegedly -- North Korea, Russia, or even from just plain old criminals. Besides losing important files, a user might have to pay hundreds in digital coin -- and may still not get everything back.
I'm a writer and like most occupations, I'd be dead in the water if I couldn't go online to research and to show off my work.
So, are there any upsides to all this? Yes: maybe more of us will take cyber security seriously. We need to realize that surfing – whether we are working, banking, reading, or viewing – is both vital and potentially dangerous.
Going online is like merging onto a multi-lane freeway – you've got to be careful out there. And when you are careful, you take precautions. In a vehicle, smart people do simple things -- buckle up, drive sober, maintain the car, and look this way and that way before tapping the accelerator.
The irony is that relatively straightforward and inexpensive precautions can keep your PC a lot safer at home. Just updating your operating system to the latest iteration is a rather simple, and not even all that time-consuming, step.
Did you know external hard drives start at around $50 and that it's an ultra-easy way to protect your data? Yep, plug a portable drive one into a USB port, backup your files, and then yank it back out. Voila! You have built a moat around your data castle that helps resist a hacker's siege.
There are more hi-tech measures you can take. You can invest in a service that backs up your cloud files, upgrade to Windows 10, and keep your anti-virus software up to date. Nothing is foolproof, but it's a solid place to start.
Let's face it, when you go online, you are entering a virtual universe, but its dangers are as real as the physical world. Yet as dangerous as the internet can be, we cannot shrink from it.
So be afraid, just don't be very afraid. We must get back out there – moated up, strapped in and inoculated, of course.