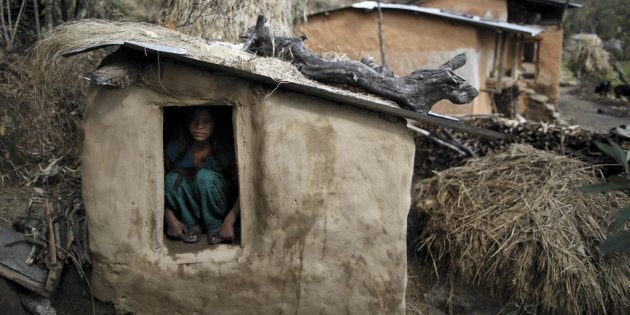 A young Nepali girl hugs her knees to her chest to keep warm. She has nestled herself into the hay as far away from the steaming pile of dung as she can. There, in the small cow shed, this 13-year-old has been banished for the entire length of her period. Only after her monthly bleeding stops will she be considered clean enough to rejoin her family. It begins to rain, and the drops crash on the corrugated metal roof. Inside, it sounds like an approaching army. Yet, outside, there is no one at all.
As it is believed that menstruating girls bring bad luck to the household, roughly 75 per cent of women and girls in one Nepali region are banished to cow sheds during their periods. Known as chaupadi, this practice received international attention last year after two girls died during their isolation.
Chaupadi provides a backdrop for three tough truths that I'd like to share on the Day of the Girl. Only when we begin to understand the following can we make headway in ending the practices and beliefs that hold girls back for generations.
1. Skirting around complexity won't serve women's movements
As one expert quoted in TrueChild's report notes,
"Girls are disciplined by older women to be submissive, obedient, not ask questions, talk back, raise their eyes, or make decisions. Girls are watched, monitored, and corrected every moment. This is imposed mainly by women who enforce these traditional female norms. We have a Hindi saying that literally translates to: 'Women are the biggest enemy of women.'"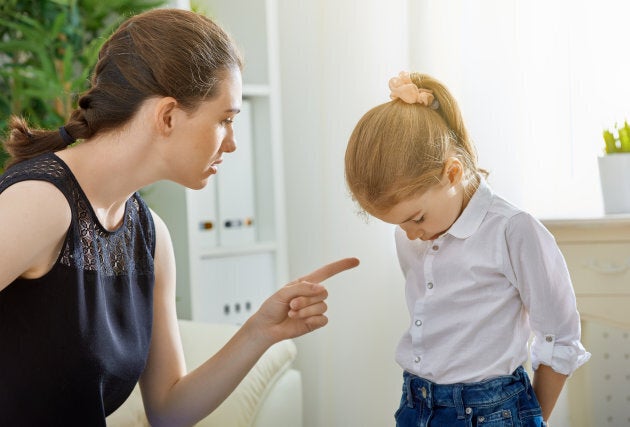 Yet, as women's rights advocates, we often shy away from the deeply complex and uncomfortable reality that women play a role in harming other women. Bringing these conversations to the surface is important if we are to unpack the many ways in which a patriarchal system affects us.
Indeed, when we widen the lens on my earlier story to see the 13-year-old girl being banished to the shed by her young mother, the complexity is almost mind-numbing. This young mother experienced the shed as an adolescent and now she enforces the same practice on her own daughter. This mother is playing by the rulebook of her society, trying to fit in, trying to live up to the expectations placed on her. But the rules weren't made by her, and she has little power to change them. Her participation in perpetuating harmful traditions is, in fact, deep-rooted patriarchy in its ugliest form.
2. Our narratives are short sighted
We have said for years that the women's movement needs new narratives. Yet adding complexity flies in the face of everything we have been taught. Consider this:
While chaupadi has been illegal for more than 10 years, the laws were rarely enforced. Case in point: local organizations indicate that there were fewer than 20 reported cases in 2015-2016. Then, in August, Nepal finally criminalized chaupadi, making the practice punishable by a fine and/or time in jail.
Funders such as The MATCH Fund rejoiced. Rarely can we point to such a concrete happy ending.
[The mother's] participation in perpetuating harmful traditions is, in fact, deep-rooted patriarchy in its ugliest form.
But grassroots women's groups in Nepal are not celebrating just yet. As one of The MATCH Fund's Nepali partners has pointed out, truly enforcing these laws would require women and girls to report their own family members — often their mothers, aunties, or grandmothers — to the police. This begs the question: are girls really safer when their mothers are incarcerated? Is it really justice to lock up a woman for doing what, her whole life, she has been told is best for her family?
Certainly I want laws to protect and enforce the status of women and girls. But, just like in the example above, widening the lens on the story shows us a girl whose mother is the head of her household. (Her father has been away for months looking for work in the Saudi oil fields.) An even more nuanced story also shows us that Nepal's population of female inmates is growing by an alarming five per cent each year. And then there's this: Nepal prisons are so overcrowded that inmates are sometimes forced to live ... in sheds.
As funders, we must override our desire for a happy-ending story and widen the lens. When we do, we will also widen our understanding of the many issues at play, opening our work to stronger collaborations at the intersections of sectors and movements.
3. The patriarchy is alive and well
Naming and exposing the complexities in our storytelling is important. But, perhaps most important, is acknowledging the force that underpins it all: the patriarchy and long-held patriarchal structures.
Another expert in the recently released TrueChild report says, "Older women have power in areas where men do not. People tell us that men need to change — but in these areas, it's the women who need to change." We must not ignore deeply ingrained patriarchal structures that allowed practices like chaupadi to exist in the first place.
Truly brave philanthropy explores constructs of power and, in its storytelling, asks the hard questions: who really holds the power in a community, for how long, over whom, and why? Why, over time, have women been taught to fear their own bodies? When women do not follow practices that have been mandated for generations, how much power do they actually have to live safe and valued lives within their communities?
I'm sure that today, the Day of the Girl, you'll hear lots of stories about girls — girls who triumph despite incredible odds and girls who are the heroes you either wish you had or wish you were. Among these narratives, I am grateful for brave documents like TrueChild's that highlight the complexity of attacking gender norms head on, surfacing the dark and difficult manifestations of long-held patriarchal traditions, including naming our role as women in keeping these traditions alive.
I would add only a call to action for those of us who fund, either institutionally or individually, women's and girls' rights. Let us not shy away from the whole story. Let's have the guts to widen the lens.