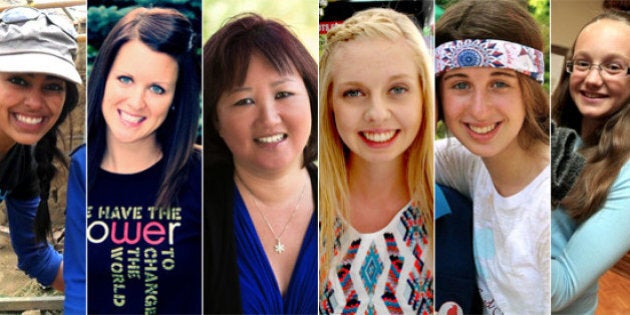 It's one thing to be idealistic and mean well in life, but it's another thing to go out there and kick the world's butt to actually make a difference. Instead of talking about a more compassionate world, some people really do something about it — day after day, year after year.
Many of these extraordinary people are Canadians, honoured for the ninth year by the Me To We Awards, part of a family of organizations that includes Free The Children and We Day, and sponsored this year by AOL/The Huffington Post Impact Canada and Canadian Living.
This year's six honourees, who will be recognized at We Day in Toronto on Sept. 20, have fought for an exhaustive list of causes both locally and internationally. Many have started their own movements, from Windsor's 12-year-old sock fairy to the social activist mother of 15-year-old Amanda Todd, the B.C. teenager who committed suicide following years of bullying.
We asked each of these passionate and inspiring winners what would be one thing they would change about Canada to make it a more just and socially responsible place to live.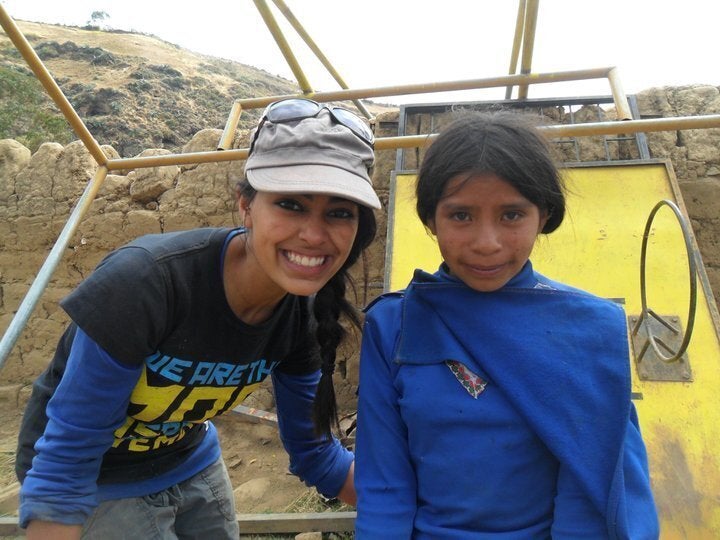 We Day Award Winners
Jasmine Kassam: Free the Children Youth Award
Jasmine has been involved with Free the Children since she was a young teen, but it was a trip in 2011, when she helped build two schools in Ecuador that became a turning point for her. She is now the president of Free the Children at the University of Western Ontario, which has 450 members.
"If I were to change something about Canada, I would make it mandatory for all Canadian businesses to either donate a portion of their profit to charity or to volunteer as a company at a non-profit organization or shelter. Giving back should be an integral part of our lives on a daily basis, as we never know when we may be the one in need."
Heather Ferretti: Educator Award
Heather started a Me to We club for students in her first year of teaching but the year she took off to work to travel in Southeast Asia and volunteer at schools and orphanages renewed her commitment to change. Over the years, Heather and her students have taken on many projects big and small including raised money for an orphanage in Tanzania and a school in Kenya, fundraised for local food banks and children fighting cancer, and singing Christmas carols during the holidays.
"The responsibility lies on each one of us to make Canada a more just, socially responsible, and compassionate country. Each day we are given a chance and the choice as to how we will leave our mark on this world. Whether we realize it or not, we are all making a difference — affecting one another. Choose love over indifference and show empathy instead of judgment. Within our everyday actions, both both big and small, lies the power for us to be the change."
Carol Todd: Social Action Award
Carol created the Amanda Todd Legacy fund in honour of her daughter to raise money for anti-bullying awareness and mental health initiatives, and she now blogs and speaks to groups about her experineces and personal tragedy.
"If I could change one thing about Canada to make the country more socially responsible or compassionate, it would be … to promote awareness for people to understand how important it is respect each other's differences and to treat each other with the kindness and care that we all deserve."
Kennedy Baker: In the Community
Kennedy's world came crashing down a few years ago. Within the span of a few months, she found lumps in both of her breasts, learned that her mother was sexually assaulted and that her estranged father had died, and had been shot at when she was out running one night. Following severe trauma and a three-month hospital stay, Kennedy eventually learned to cope and pick up the pieces of her life by giving back to the community and has since created STAND (Stand Up, Stand Together, Stand Strong), a non-profit organization aimed at fighting poverty and feeding the homeless.
"If I could change one thing about Canada I would want to make people better understand the reasons behind homelessness and poverty and to erase the stereotypes associated with mental illness."
Lola Flomen: Youth (13-17)
Sixteen-year-old Lola has been carrying out acts of kindness since she was a little girl. At age seven, she sponsored a child in Malawi. The next year she made "welcome boxes" for children at a battered women's home. By the time her bat-mitzvah came around at age 12, she asked guests for donations to the Jewish General Hospital in lieu of gifts, raising $35,000, and has continued to take on even bigger projects all over the world including volunteering to fight HIV in South Africa and building a water sanitation program in the Dominican Republic.
"One thing that I would change about Canada is that I believe that the government should allocate more funds to grassroots organizations so that they can flourish and help those in need in our Canadian community. Of course it is incredible that Canada donates large sums to help global issues and crises, but the help needs to start at home. Poverty is not only found in rural areas of Kenya or Ethiopia but it is also found in our backyard."
Sarah Lewis: Youth (12 and Under)
Sarah's life changing "aha" moment came when she was just seven years old, volunteering at a homeless shelter in Windsor, Ont. She asked a man named Joe what else he needed and simply replied "socks." The 12-year-old has since started a campaign called Socks Warm Your Heart, collected and donating more than 7,500 socks to date, along with money and other essential supplies for the homeless.
"I don't think anyone should go to bed hungry and everyone should have a bed to go to. We need to provide safe, easily accessible housing for all. Every individual of our country needs to be accountable and responsible for being a good caring citizen. "