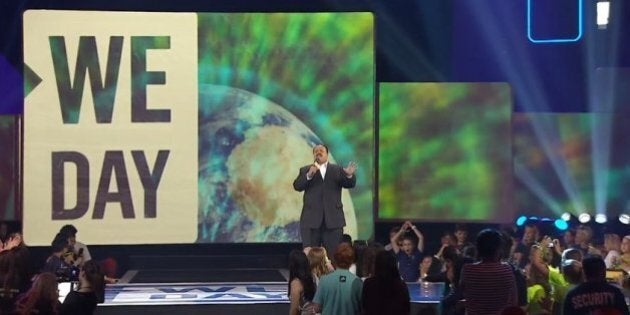 If Martin Luther King Jr. and his wife Coretta Scott King were alive today, they probably would have been at the Air Canada Centre on Friday, according to their son.
Martin Luther King III joined 20,000 students, prominent Canadians and international notables and superstars at the 2013 edition of We Day Toronto, a day-long event held exclusively for Canadian students and educators who have driven social change in their communities in conjunction with the Free The Children and Me To We organizations.
King was the first speaker to take the stage following a musical remix of his father's famous "I have a dream" speech," which Martin Luther King Jr. delivered 50 years ago. King III did his best to channel the inspiration of that original speech to the We Day attendees, many of whom were a couple of generations removed from King Jr's era. But King III made it clear that, despite the years that have passed, his father's hopes and We Day's goals of empowering youth for activism were very much aligned.
"If my dad and mom were alive, they would be right in the middle of this movement," he said. "This is important work, and it's gonna change our world."
King called on the students to help eradicate what his father called "the triple evils" of poverty, racism and militarism and violence. And then, to "do that job so well that the living, the dead and the unborn, could do that job no better," as his father had often told him.
It was a living history lesson that set tone for a day where educating the youth literally took centre stage, with segments paying homage to legendary change makers such as Thomas Edison, Mahatma Gandhi, Terry Fox, Canadian suffragette Nellie McClung and Romeo Dallaire.
Story continues below slideshow: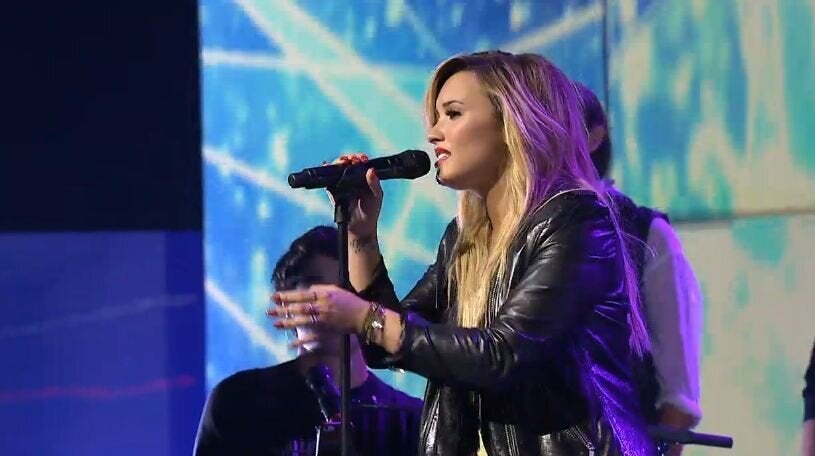 We Day 2013 Photos
Free The Children founders Marc and Craig Kielburger stressed that the movement they'd started in 1997 was standing on the shoulders of the giants that had come before them.
"Today is a result of [King Jr.'s] movement and movements like this throughout history," Marc Kielburger told the crowd. But the brothers made sure there were several current history makers on stage in between the references to the past, and those guests had their own lessons to share.
Kathleen Wynne, Ontario's first woman premier, shared a personal anecdote of a fellow high-school student who thanked her for not bullying him years ago.
"I realized I hadn't even really tried. Imagine if I'd tried?" she said, adding that "we have to make connections with all the people around us every single day."
Liberia's president Ellen Johnson Sirleaf -- the first woman president in Africa, revealed that growing up with two illiterate grandmothers and a village full of children and girls who didn't have access to education only strengthened her resolve to drive change and eventually become president.
"The more committed you become, the more dedicated you are to what you're working for, it just strengthens you," she said. "And difficulties build character," even in the face of misogyny, opposition, or imprisonment.
Story continues below slideshow:
Or outer space. "The sky is not the limit," Commander Chris Hadfield, the first Canadian to walk in space and command the International Space Station, revealed. "Today, you are 20,000 stars who have a light inside you to achieve everything you believe in."
Star power filled the ACC with performances by the uber-popular Jonas Brothers, Imagine Dragons, Demi Lovato, and Justin Bieber-lookalike Austin Mahone, as well as Free The Children's own 'stars', Spencer West (who walked from Edmonton to Calgary on his hands), Robin Wiszowaty, Molly Burke and Sydney Brouillard-Coyle. Judging by the deafening screams of their fans, the celebs were a welcome reward for a year spent dedicated to social change (the requirement for students to get a We Day ticket), which resulted in $11 million raised for causes like clean water access -- more than 140 million pennies were collected last year in support -- poverty and animal welfare.
Free The Children's next goal is education-related -- to build 200 schools in areas of need.
Already, there are two new recruits for the cause. John Christos brought his two teens, Ashlyn and Brayden, from their home near Alliston, Ont., to We Day to expose them to positive influences.
"I grew up in the era of Terry Fox, so I know what one person can do," Christos said.
Brayden, 13, said he plans to get his football team to host a fundraiser for Free The children this school year. We Day was the first concert he'd ever attended.
His highlight was watching MLK III continue his dad's legacy. "You could listen to that speech a thousand times and not get bored of it," he said.
The student said he also hopes to go on a volunteer trip to Free The Children's Bogani cottages in Kenya's Maasai Mara next year to experience helping others first hand.
"One person can make a big difference, no matter your age, size and race," he said.
With files from Dawn Cuthbertson
Popular in the Community