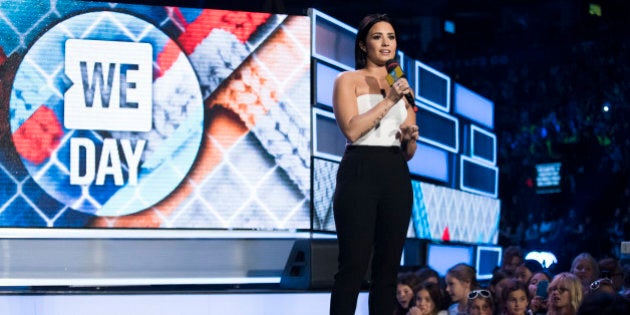 On Thursday October 1st the Air Canada Centre was transformed into a gigantic classroom with over 20,000 students to host the educational field trip of a lifetime: We Day. The brainchild of Free the Children's Craig and Marc Kielburger, it's not an easy experience to articulate.
We Day is a full-day educational event combining live concerts with motivational speeches from a star-studded ensemble of celebrities and remarkable youth. I would be remiss not to name drop a bit. While there are too many personalities to list (it's that expansive), the line-up included Demi Lovato, Shawn Mendes, Earvin "Magic" Johnson, Silken Laumann, and Michael "Pinball" Clemons. The collective mission: to promote diversity, inclusiveness and openness, and to tackle some very heavy topics facing young people today. In my opinion, it takes great courage to take this stage to share very personal stories, struggles as well as success. Kids are encouraged to use their imaginations to create the futures they want and to be active participants in the change they want to see in their schools, communities and the world.
Perhaps what is most unique to what some students describe as the "coolest event of the year" is that there is no price tag on this experience. The day is not only jam-packed with enough inspiration to last a lifetime, the tickets are actually free of charge (thank you corporate sponsors TELUS and RBC). Over 200,000 students and their teachers earn these coveted tickets by spearheading social programs focused on local and global causes. An expanding movement, We Day takes place in eight locations across Canada, four locations in the U.S., and the U.K. too.
At We Day the school teachers are elevated to the same level as the celebrities, spotlighting educators as enablers of student leadership. Free the Children works directly in partnership with schools year-round. According to Ontario Minister of Education, Liz Sandals, "I am proud to say that because of the efforts of our educators, students and Free the Children, we are helping our children grow up to be successful, compassionate and engaged citizens."
For those curious about the degree of this impact and how it can be measured, I attended an educational presentation on this very topic. A speech was made by Jason Saul, an expert authority on measuring social impact, on the creation of higher value outcomes for students in the areas of academics, professional skills and civic engagement. It's believed that as a direct result of program participation, these students become more passionate about learning and likely to attend college or university, develop 21st century skills necessary to become leaders in the workplace, and are more likely to vote and participate democratically.
Ultimately, Free the Children and their partners invest countless hours, energy and resources to create youth impact they believe to be a catalyst for change in our local and global communities. I hope that I have "earned" my We Day Toronto ticket by sharing this insight into what it takes to create the next generation of change agents.