While I love Bell Let's Talk's decision to focus on everyday Canadians this year instead of the celebrities we're used to hearing from, I wish just one of the stories would have highlighted a mom or mom-to-be struggling with a maternal mental health disorder.
It gets kind of close in a Bell Let's Talk prime time special featuring the stories of eight Canadians interviewed by CTV veteran journalist and The Social co-host, Marci Ien.
I love the fact that Ien and a crew of four spent six weeks traveling the country from Iqaluit to Halifax listening to Canadians tell of how they're coping with various forms of mental illness including Lesley Kelly, a mom in Regina who suffered from the baby blues for a couple of days after the birth of her son. However, the mention is brief, and doesn't even begin to scratch the surface of maternal mental health struggles currently facing moms and families in Canada.
One in five Canadians will be affected by a mental illness this year, and that includes pregnant and postpartum women who may develop a range of maternal mental health issues such as depression, anxiety, obsessive compulsive disorder, bipolar disorder and psychosis.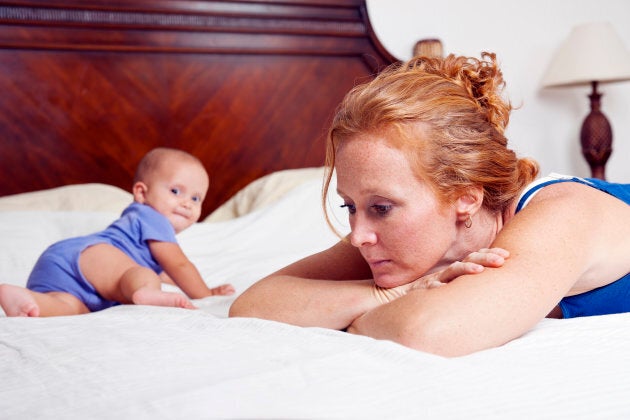 When I talk to advocates about why they think maternal mental health has been left out of the conversation, they seem to think it's because Canada as a whole is failing to address the issue head on. Some will be tweeting this year using the hashtag #BellLetsTalkMaternalMentalHealth to try and garner more attention.
To be fair, I was invited to talk about my experience with postpartum depression during a live segment on CTV National on Bell Let's Talk day in 2013. Unfortunately, it was during my first bout with a maternal mental health illness right in the middle of a manic episode after not having been properly screened or treated for what turned out to be postpartum bipolar disorder.
Back then, I was experiencing a psychotic episode but it was missed completely. I guess the fact that I wasn't at risk of harming myself or my child didn't raise any red flags with anyone including my doctor. But I thought angels were talking to me, and that meditation was the cure for postpartum depression. I quit a high-paying job on a whim, wrote and self-published a book within a month and put together a one-woman musical which I performed on stage at a theatre I rented out in Toronto.
Friends and family, though they thought I was acting strangely, came and supported me. I raised money for mental health, but I was not well. Soon afterwards, I crashed into a debilitating depression and lost my house because I had no job and was spending excessively (a symptom of bipolar disorder.)
I wish I could go back now, five years wiser, a much more informed maternal mental health advocate after having experienced severe postpartum depression twice, getting the proper treatment the second time around which included life-saving medication, and becoming fully educated about maternal mental health disorders.
I would talk about how important it is to screen all women for maternal mental health disorders from preconception to one year postpartum and even beyond.
I would talk about the need for home care for mothers experiencing a severe mental illness
I would talk about the symptoms not often spoken about including intrusive thoughts, panic attacks, heart palpitations, muscle tightness, brain fog, derealization, depersonalization and in some cases like mine, delusional thinking, hallucinations, and psychosis.
I would talk about the need for more and better training for health care providers from nurses to obstetricians, to family doctors, to midwives.
I would talk about the need for resources in every community in Canada to help women with a perinatal mood disorder in addition to medication such as therapy, support groups and a dedicated maternal mental health hospital wing with beds for mothers and their babies.
I would talk about the need for home care for mothers experiencing a severe mental illness to help with caring for the baby and household chores, not just a nurse that comes and sits on your couch for an hour to confirm you have postpartum depression and then never see them again.
I would talk about how the current mental health movement is working backwards, and how failing to identify and adequately treat moms and moms-to-be with a maternal mental illness can have behavioural and psychological effects on their babies who grow up to be children with mental health issues who grow up to be adults with mental health issues.
Apart from my five minute misinformed interview in 2013, there has been barely a blip about maternal mental health in any meaningful way during the past eight years of Bell Let's Talk. I don't believe Bell purposefully excludes maternal mental health from their campaign, I just think it's not on their radar. Unfortunately, this year's campaign highlighting the stories of everyday Canadians was a missed golden opportunity.
Follow HuffPost Canada Blogs on Facebook