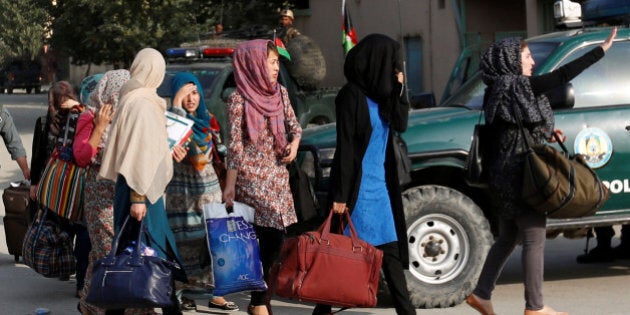 As the sun started to set over Kabul on August 24th, insurgents detonated a truck bomb outside the American University of Afghanistan (AUAF), blasting open its walls. In streamed gunmen who proceeded to run through the campus shooting into classrooms as students ran in terror, some jumped from windows, and others watched their professors or fellow students gunned down. Among the victims were an Oxford PhD candidate, a talented musician, a volunteer who taught street children. Sixteen dead, dozens injured, and a campus riddled with bullet holes, blood and broken glass.
The AUAF network is expansive. It's an institution that educates, but also builds community. Its connections spread far throughout Afghanistan. I realized this on Thursday when I saw my Facebook newsfeed filled with posts from AUAF students, former students, teachers, parents, staff and former staff. Students trapped on the campus were posting from their mobiles, while others anxiously pleaded for news of loved ones they could not reach. Messages were furiously swapped throughout the night, sharing updates on the status of friends who had escaped, been rescued, or were still hiding on the campus.
Nine hours later, the attack was over, the campus cleared of attackers and all remaining students and staff evacuated.
The social media sphere was lit up with reactions. Among many was a tone of hopelessness, an understandable lamenting of the loss of those who were counted on to build the future, bright young minds attacked in the classrooms they had sought out to chase their dreams.
In a country on the precipice, many smart people -- with hopes for themselves and their families -- have been asking: should I remain in such a country? And for many of them, the AUAF attack gave them the answer. It is one more tragedy in a series of tragedies in endless succession, but one that struck close for the many Afghans with ties to the university. Many are responding to the attack by giving up on the idea that there is a peaceful future in Afghanistan.
But amidst the expressions of capitulation, there was also an outpouring of solidarity and declarations of resolve, enabled by the widespread use of social media by Afghan youth, who have an outlet for their voices these days. Less than 24 hours after a harrowing experience, survivors were passionately posting in defense of education, charging the insurgents with attacking AUAF because it symbolized progress.
Afghanistan's education sector exists in a reality of continuous and deliberate violence directed at it.
A Kabul resident, Latif, wrote: "The barbaric attack on AUAF shows that enemy of Afghanistan is trying to stop us from education but I'm sure they will fail, as Afghans are committed to proceed for development and education. My heart aches for the victims of last night." Another, Weeda, wrote: "We are angered and weep for the loss of our best, but we stand strong in solidarity. You cannot kill us all Taliban."
A 19-year-old survivor, Roman Dehsabzi, in an interview with Radio Free Europe said: "The American University of Afghanistan is one of the country's best universities. That's why the enemies of Afghanistan want to destroy it. But we won't give up our studies, even if there's another attack. We will continue our studies. I'm not afraid."
Another survivor interviewed, Farzana Bakhriary, said: "I will stay strong and I will continue my classes when the university reopens, 100%," she said.
Others wrote moving testimonies of friends and loved ones they had lost. As in every terrorist attack in Kabul, youth made their way to hospitals to donate blood, including a survivor of the same attack.
As I sifted through the defeatism, and found the resolute and resilient, I was once again face to face with the Afghanistan that holds the key to release itself from its precarious present. There was the defiance of Afghanistan, its trump card. It is at work every day, invisible to much of the world outside, but as steadfast as ever.
In grief, we can find an endless darkness, or, we can find a buttress for unity.
Afghanistan's education sector exists in a reality of continuous and deliberate violence directed at it. Schools, teachers, and students are not accidental casualties; they are intended targets of the insurgents. We should pay attention to why that is.
As so many AUAF students have pointed out, education is under attack for a reason. It is the single greatest threat facing the Taliban, and their vision of a lurid and joyless dystopia.
Militaries come and go, regimes rise and fall. But the social change that comes from education is irreversible. Every teacher capable of inculcating curiosity in a young mind, every individual who persists in questioning, every student who learns new ideas and spreads them to others, is a menace to the Taliban's plans.
The thing about education -- of the kind that is student centred, liberal, secular and modern -- is that at some point its outcomes become self-perpetuating, and no one can control the consequences. The accumulation of knowledge in disparate minds consolidates, and the change is no longer at the level of the individual but in the society.
Yet what is remarkable is that the system is surviving. Little girls and boys still go to school, teachers still come to work every day, and parents still believe their children will have bright futures if they can access education. I've seen this play out for over a decade, and it is something to see. And for this dogged system to persist, and to grow, we have to heed the messages of defiance, rather than the ones of hopelessness. In grief, we can find an endless darkness, or, we can find a buttress for unity. Now, we need unity.
Today, the university announced its intention to re-open: "As our faculty member Naqib Ahmad Khpulwak, who was killed in this attack, had said, those who care about the future of Afghanistan cannot back down to insurgents and criminals who threaten a future of possibility. Our firm resolve is to move forward."
The victims at AUAF had no power over the events that unfolded there on Thursday. But they do have power over how to respond to those events. They do have power over the future that lies ahead -- that future is not up to the Taliban alone to shape. It cannot be allowed to be. It must be left to the defiant.
Follow HuffPost Canada Blogs on Facebook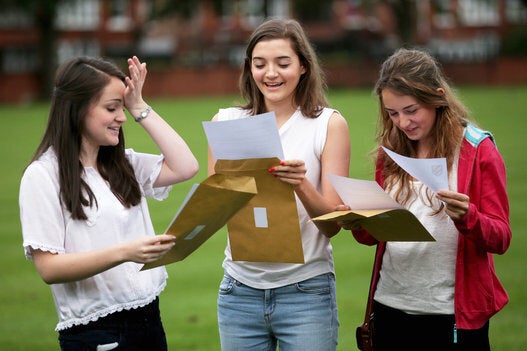 Photos Of Girls Going To School Around The World