When the news broke that President Trump's administration might be ending the Let Girls Learn initiative -- a program that provides educational resources and tools to adolescent girls in underdeveloped countries -- there was an immediate outcry on social media. What reason could there be to end such an inarguably positive initiative? The White House quickly backtracked to say the program hasn't changed, but they didn't provide further details. This controversy warrants a dialogue about why Let Girls Learn remains so essential, and the impact that discontinuing it would have for girls and their communities around the world.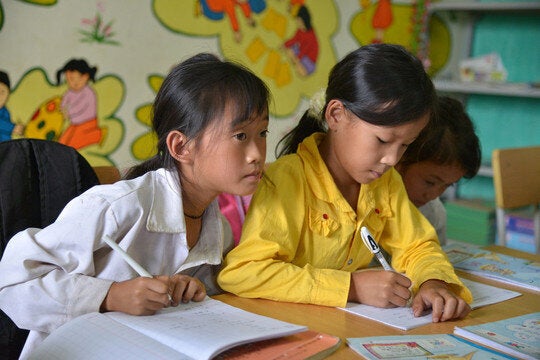 Girls learning in a Plan International-supported school in Vietnam. (Photo: Plan International)
Our respective leaders, President Donald Trump and Prime Minister Justin Trudeau, introduced the Canada-United States Council for Advancement of Women Entrepreneurs and Business Leaders at their very first meeting together, wanting to address the serious issue of gender imbalance in business. There was a clear and mutual understanding that better support of women in the workforce would contribute to the overall economic growth and prosperity of our countries. This basic principle rings true for communities in the developing world.
An investment in a girl is an investment in security, stability, and economic growth, not to mention an investment in her human rights. For every extra year a girl stays in school, her income can increase by 10 to 20 per cent. And on average, a girl with seven years of education will marry four years later and have fewer, healthier children.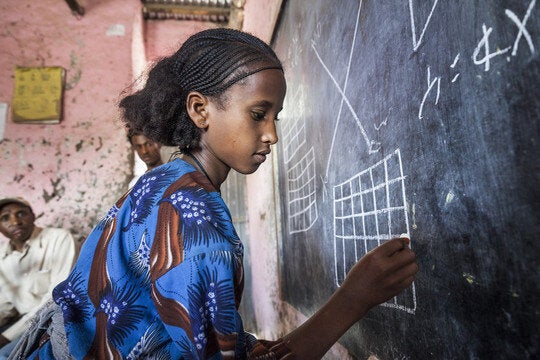 With the support of Plan International, Shesheg no longer has to skip class to access to clean water, because it's now available just five minutes from her home. (Photo: Plan International / Petterik Wiggers)
Over the past two decades, extreme poverty and maternal and child deaths have been cut in half and hunger is on the decline. We can attribute much of this to the evolving role of women in schools and in the workplace. For example, when women farmers have access to land and resources, crop yields increase by 20 to 30 per cent. If this could be made possible in all developing countries, it would translate to feeding up to an additional 150 million people.
With ample evidence, the case for investment couldn't be stronger -- and girls themselves are its fiercest proponents.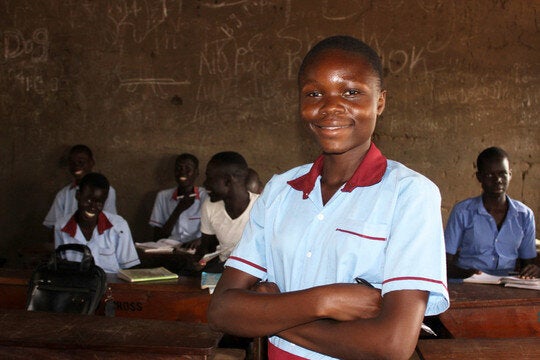 Susan is committed to continuing her education, despite the drought and instability in South Sudan. (Photo: Plan International)
Girls like Susan, an 18-year-old from drought-stricken South Sudan who is battling abject poverty at home and biting hunger in the classroom, but remains unwavering in her determination to attend school every day. "Even if they take away all that we have, they should not take our education," she says. "I walk 30 kilometres to school and back on an empty stomach," says Susan. "My exams are coming and I cannot afford to fail. I am almost there."
Susan is fighting for her future, but she needs someone in her corner.
The President of the United States describes himself as a business leader. It is one of the main reasons he was elected, and many Americans want to see his business practices applied to running a government to effect change. When looking at investing in girls in the developing world, the return-on-investment is massive. A business-savvy leader like President Trump surely recognizes this, and perhaps this is one of the reasons why the White House emphasized that there have been no changes to Let Girls Learn, despite earlier reports to the contrary.
In fact, one of the U.S. Government's most successful development programs, the President's Emergency Plan for AIDS Relief (PEPFAR), is part of Let Girls Learn. PEPFAR's DREAMS program recognizes that education is instrumental to a girl's health and well-being, as girls with secondary school education are six times less likely to marry as children, and works to ensure all girls stay in school. If PEPFAR is a priority of this administration, as they have stated it is, then Let Girls Learn is instrumental in advancing this priority.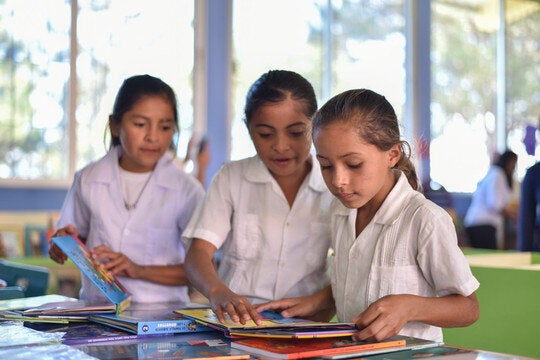 Girls reading at a new school library built with Plan International support in Honduras. (Photo credit: Plan International / Howard Padgett)
We encourage the U.S. government to take this opportunity to make the program even bigger, better and stronger. We would like for President Trump to be able to share stories in a few years' time that showcase how the initiative has resulted in less poverty around the world by providing girls with access to more tools and resources. We would like for him to be able to demonstrate to Americans -- and the rest of the world -- that his administration recognizes the potential of girls and women, and the importance of education. And most importantly, we would like to see the initiative be successful, because our common good depends on it.
During this critical moment of tension between regressing attitudes about gender equality and widespread progressive social change for women, the opportunity is ripe to demonstrate leadership. Girls like Susan are doing their part. They need all of us to step up and create opportunities for girls and women, at home and around the world, to claim their rights.
We challenge world leaders to not simply let girls learn, but relentlessly champion a girl's right to an education.
Follow HuffPost Canada Blogs on Facebook