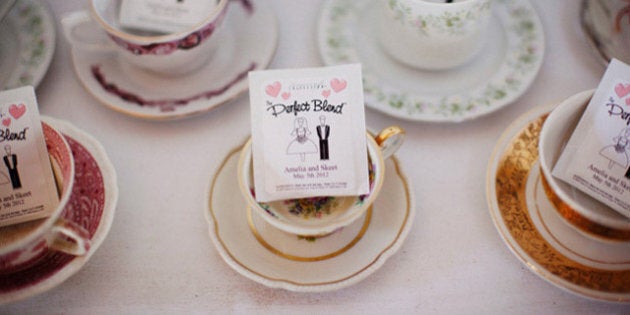 Many couples are eschewing wedding favours these days, whether it's because they want to put the money towards a charitable donation instead, need to slash that line item from their wedding budget altogether, or simply don't want to spend time putting them together. Valid choices, all of them!
But there is also something to be said for a favour that really helps to tie your day together, or tells your guests a little something about who you are, what you dig, and why you love each other. Good friends had macarons as a wedding favour once — not just some they purchased at a local bakery, but ones handmade by the culinary minded groom in custom flavours representing their upcoming honeymoon to India. They were packaged neatly with a card explaining how the macarons were inspired by a previous trip to France. And bonus, they were delicious. The favour was the perfect combo of useful, because it was edible, and beautiful, because it really told the guests something about the couple and their life together.
Other flavours might be less involved, and probably not as complicated to put together as macarons, but that doesn't mean they can't be fun, whimsical, touching, or just tasty. Whether they're for guests coming from out of town or just as your friends and family leave the party, here are 15 ideas for wedding favours that hit at least one of these marks.