When filmmaker Brandon Li went out with his drone to capture the sunset in Hong Kong with a friend, he didn't think he'd end up capturing another shot altogether — a breathtaking pic of what looks like a bride and a groom sprawled upon the grass on a tower rooftop.
"So many people think that I staged the photo," he told the news site. "I'm a filmmaker not a wedding photographer so I don't really have an incentive. It's really just a lucky catch."
According to Li, the rooftop is at the J residence apartments, and as of now, the couple (or models, even), have not been identified. Some Facebook users even believe they could be mannequins.
"You usually see these really cold pictures of Hong Kong looking really crowded and grey, and here's this moment where two people are doing something very good and joyous," he told the BBC.
And although Li does not specialize in wedding photography, drone wedding photography is quite popular.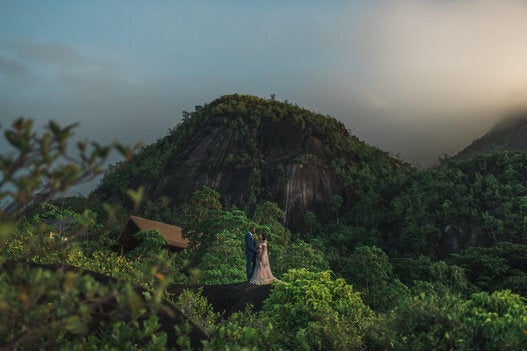 Best Destination Wedding Pics 2016