Take notes, wedding-goers.
Photographer Thomas Stewart, who works in Burradoo, Australia, posted a 26,000-word "rant" to his professional Facebook page explaining why loved-ones need to put their cameras and phones away during wedding ceremonies.
He makes several brilliant points, saying that camera-happy guests often get in a professional photographer's way, ruining once-in-a-lifetime pictures.
But what's worse, Stewart said, is when loved ones block the happy couple's view of each other as one comes down the aisle.
"Look at this photo. This groom had to lean out past the aisle just to see his bride approaching. Why? Because guests with their phones were in the aisle and in his way," the photographer wrote. "This sucks."
"Guests, you've been invited to this wedding to share and celebrate the love that two people feel for each other," he continued. "They didn't invite you along to take photographs that they probably won't really look at anyway. They want you there with them in heart and soul, and they want to see your tear-filled eyes as you form part of their wedding ceremony. You are witnesses to their marriage, so for goodness sake, watch them with your eyes and your minds, not your phones."
Stewart wrapped his post by encouraging couples to host an "unplugged" ceremony, leaving guests to tap into their emotions and photographers to tap the shutter, as they've all been invited to do.
As Canadian photographer Andreea Muscurel so eloquently put it: "'I wish all wedding officiants would begin with, "Dearly beloved, put down your damn cellphones and enjoy the wedding of these two lovely people.'"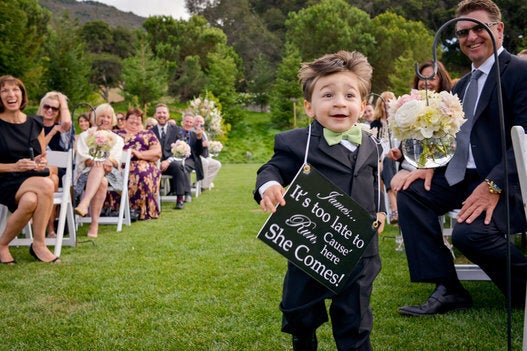 Kids At Weddings