It only takes a few hours of wedding planning to realize there are a million things to be done and even more decisions to be made.
With all the wedding talk from friends, your own dreams (and not to mention numerous reality shows), it's easy to get wrapped up in expectations and pressure to celebrate in a specific way. Wedding planning, though, is a serious business and it's important to stick to a plan, a budget and most of all, practical decisions.
Not everyone can afford a professional wedding planner — according to the Wedding Planners Institute of Canada, it can cost anywhere from $600 to $1500+, and that's just for help the month of the wedding, not all the time leading up to it.
Lynzie Kent, a Toronto-based wedding and event planner at Love by Lynzie, has learned quite a few tricks over the last four years. And though she definitely advises getting a planner for at least part of your event, she's willing to reveal the biggest ways in which couples go wrong when planning their weddings.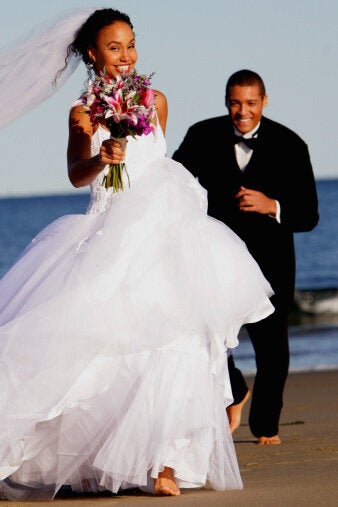 Biggest Wedding Planning Mistakes
Picking A Not-So-Perfect Dress: Pick a dress that fits your wedding theme and venue. For example, a full ball gown is not appropriate for a beach wedding.
Waiting For 'The One' Dress: Keep dress shopping simple by inviting a small group of people, rather than multiple loved ones. Too many opinions can cause confusion. Also, be realistic while picking out the dress. Lynzie Kent, a Toronto-based wedding planner, warns against "waiting for 'that moment' to dictate once you've found your dress." Not all brides get emotional like the shows.
Buying A Dress Without Researching: Keep your options and your imagination open; dresses can be altered for personalization. Look around in vintage stores and one-off bridal boutiques for unique options.
Trying To Do It All Yourself: Kent says hiring a planner with knowledge of how to save money and industry discounts can do wonders for keeping your budget in check.
Taking The Budget Lightly: Watch out for the budget creep. Sticking to the budget is hard. Sometimes adding even a few more guests can creep into your chequebook a big way. For example, adding even 10 more guests means one more table at the venue, one more centerpiece and 10 more meals.
Too Many Expectations On Limited Resources: Don't let Pinterest, wedding blogs and reality shows pressure you to make every little detail of your wedding personalized. It can be tiresome and hard on the budget. "A few meaningful personal touches stand out stronger than an overdone wedding," says Kent.
Impractical Destination Weddings: With lower currencies in most destination wedding locations, they are often perceived as the easy way out. This isn't the case, says Kent. Decisions about venues and catering often have to be made blindly and don't provide your money's worth. It also puts pressure on loved ones who cannot afford to pay travel expenses.
Choosing A Venue That Doesn't Fit Your Needs: The venue may be beautiful and budget-friendly, but will it be convenient? Will the dance floor have to be created by removing tables? Is there a place for elderly family members to sit? Kent warns that when these questions aren't addressed, couples are often stuck, "trying to manipulate a space that was not the best design for their vision".
Overlooking The Table Shape And Layout:. Kent recommends square tables over the typical round tables that only allow conversation between two people. Square tables still offer a traditional setting, but also ease of conversation among all the table-mates.
Forgetful Vendors: Remind your vendor of your wedding and your specific requirements a week before your wedding. It may be the most important day of the bride and groom's life, vendors do this all the time, warns Kent.
Not Having Enough Seating: Another major layout flaw is not having enough seating, even if it is a cocktail style event, says Kent. Always keep older guests and women in heels in mind.
Not Following Up With Vendors: Remember the contract you signed with each vendor and hold them accountable. Many vendors require full payment on or before the day of the wedding, but their services to you don't necessarily end on the day of your wedding. If they're not held accountable, and they've gotten their money's worth, vendors like photographers can take months to hand over their products.
Not Letting The Pros Do Their Jobs: At the end of the day, you chose the vendors you did for a reason. They are professionals – trust them. They know what's in style and what will look good.
Ignoring The Needs Of Guests: Your wedding day is about you, but your guests have expectations too. Pamper your guests through small gestures. Kent recommends things like pre-arranged cab pick-ups, bathroom caddies, children's fun kits at tables. Also, make sure to spend a few minutes of quality time at each table.
Not Leaving Room For Additional Costs: Always factor in gratuity and taxes on your budget. Kent recommends working with a budget lower than your actual budget, the extra charges will add up to your real budget.
Not Enough Encouragement To Get The Party Started: If you're the type of couple that wants a big party atmosphere at the reception, Kent says it's important to layout the venue to encourage this. The dance floor and the bar should be close so guests don't just congregate near the bar. A good band or DJ are also key.
Popular in the Community