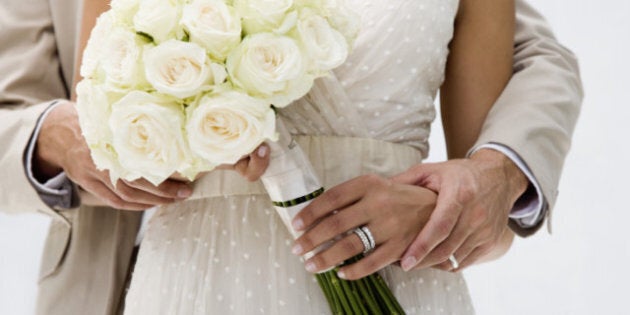 If you're engaged and planning a wedding for 2012, you're probably well on your way to finalizing all of your big day preparations -- what colour flowers you want, what your guests will nibble on post-party and, of course, where you'll actually have it.
But if you're still looking for a few cool ideas (or if you're looking forward to a 2013 bridal bash), take a page from Catherine Lash's style playbook. As one of Canada's preeminent wedding planners -- and founder of The Wedding Co. -- she knows a thing or two about making a big day special.
Here are some of the things she's predicting will be big for 2012.
Splash Of Colour: "Gowns are still prominently white, but brides are adding a splash of their favourite colour with a beautiful sash, a vibrant pair of shoes or a stunning necklace with soft-coloured gems."
The Communal Table: "Long gone are the round tables with tall centrepieces. Couples are seating their guests at long communal tables with stunning low-riding flowers running down the centre. This allows the guests to see the person across from them and engage in great conversation without an obstructed view."
Venues: "Couples are seeking out unique venues that have relevance to them: a local hotel, a favourite restaurant or a historic landmark."
Cakes And Sweets: "The cake no longer stands on its own; instead, it's now the centrepiece of the sweet table full of gourmet candy and comfort food, milk, cookies and our personal favourite -- pie pops."
She adds 2012 will be different than previous years in terms of wedding trends and style because:
-- Vintage and DIY will start to fade and couples will start to refine the décor elements at their wedding and not over do it.
-- Couples will focus more on hosting a fantastic party including surprise entertainment such as go-go dancers and hiring their favourite band to play.
Looking for more ideas? Check out some of the top wedding trends from 2011. Perhaps you want to carry a few of these ideas over into 2012!?