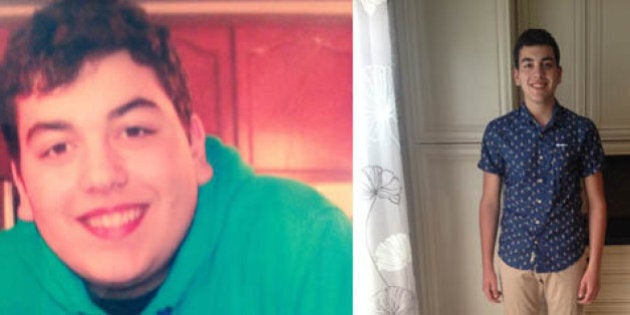 By The Numbers: 203 at my heaviest, currently 170 pounds of lean muscle for a total weight loss of 33 pounds. Also went from 29 per cent body fat to 16 per cent body fat.
The Weight Gain: When I was very young, my dad got sick and our lives were suddenly busy with doctor's appointments and hospital visits. My family and I turned to the convenience of fast food to keep up with it all.
My dad passed away when I was six years old. My grief caused me to develop anxiety and poor eating habits. I was eating very little, replacing "real food" with crackers and other unhealthy snacks, but gained weight steadily.
Like most teenagers, I faced peer pressure and body image issues. I lacked self-confidence and dreaded gym class and my Saturday morning soccer practices. These feelings of insecurity only intensified when I started at a new high school, more than 40 pounds overweight.
Final Straw: Before she got married and became pregnant with me, my mom was what you would call a "gym rat." When my dad got sick, her number one focus became his health and mine, and she lost sight of her goals. After he died, her priority was helping me with my anxiety and getting me to eat.
More recently, she decided it was time to take charge of her life again. She started eating clean, whole foods and joined a GoodLife Fitness club where she works out five days a week. I watched her lose 20 pounds, and was inspired to do the same.
Story Continues Below. Check out more of our inspiring weight loss stories: