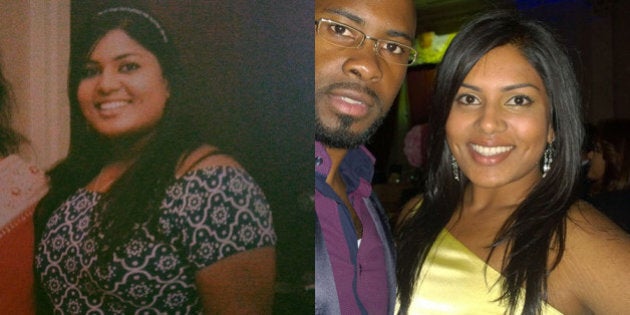 Who: Sindhu Suppiah, financial analyst
Heaviest weight: 210 pounds
Current weight: 159 pounds
Total weight lost: 51 pounds
What was your weight like growing up as a kid?
Usually on the heavier side
When and how did the weight gain start?
I have always been "curvy", but not necessarily overweight per se. After my first year of university, the stress set in and I gained close to 40 pounds within four years. Although I was active, my activity was never goal-oriented.
Did you try any diets at that point?
As I was gaining the weight, I did not realize the detriment it was doing to my body. I was not dieting or concerned about my physical health.
Do you have any anecdotes or stories when you knew you had to change your life around?
I met someone about a year ago who really lit a fire within me to become the best version of myself. He was motivating and supportive, and I wanted to prove to both him and myself that I was capable of being that person he saw within me. In January 2014 we both decided to start a weight loss plan. We used the app "My Fitness Pal" and tracked our caloric intake together. We worked out together and decided we would run a 10k together in April 2014.
When was the 'final straw'?
I decided in August 2013 that I needed to be living life for me. Be it with my weight, personal goals, or relationships, the only person who really mattered was ME. While I was looking to change numerous areas in my life, changing my body had been a lifelong struggle, and I was sick and tired of being unsuccessful.
Why did you decide to drop the weight?
I wanted to be the best version of myself. I wanted to be in a meaningful relationship, and I realized you can't expect someone else to love you, if you don't love yourself. I needed to feel pride and confidence in myself so I should I meet that special person, I could offer myself completely to them without regard of my personal insecurities.
Story Continues Below. Check out more of our inspiring weight loss stories: