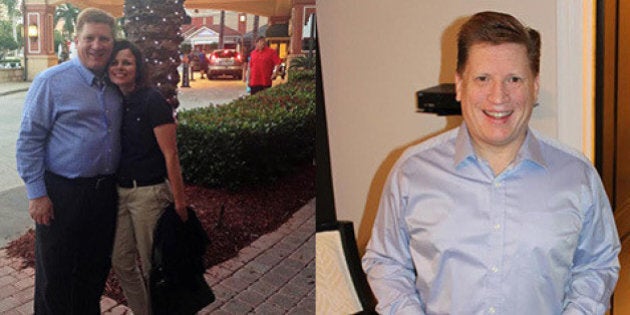 Occupation: Deloitte consulting partner
By The Numbers: 247 pounds at my heaviest, 220 currently pounds, for a total weight loss of 27 pounds.
The Weight Gain: I always had a solid build. My hockey playing days started at age four, and in my teens and twenties, I was very active and fit because of it. I remember going with my mother to get my first suit at age 14, and the man fitting me said, "Wow, he's very muscular for his size." I was quite proud of this.
But the weight really started when I was finished school and started working full-time. It would go up and down with the amount of physical activity I would do. I was never one to go to the gym, but I continued to play hockey recreationally. As my career progressed, my travel demands increased dramatically, and my eating habits were clearly not the best.
Final Straw: In 2014, I got married to a beautiful woman named Annie. For the last five years, she had been battling breast cancer. A few months before we were married, her cancer returned and almost paralyzed her through an attack on the spinal cord. It was a very scary time.
In May, we were married, and her recovery was nothing short of a miracle. She is currently cancer-free and is my inspirational leader. I started going to the gym that July.
The Plan of Attack: Over the course of the last year, my wife and I were excited to see a Life Time Athletic club being built just five minutes from our home. At first, I started on the treadmill for 45 minutes a day and after a week or so, I started to feel good about my commitment level. I decided to keep progressing in my workouts.
Next was the eating habits. It started with little things like eating breakfast regularly and trying not to have a big dinner after 7 p.m. I also cut out anything fried, which helped tremendously.
I started working with a personal trainer, Khal. He was an awesome point of inspiration in this journey, really stressing the mind-body connection. In three months, I had lost over 25 pounds and I am not so much concerned about the numbers, but more about how I feel. I would like to lose another 25 pounds by the end of 2015, but more importantly, I want to be in good physical condition and have made lasting changes in my eating choices.
Story Continues Below. Check out more of our inspiring weight loss stories: