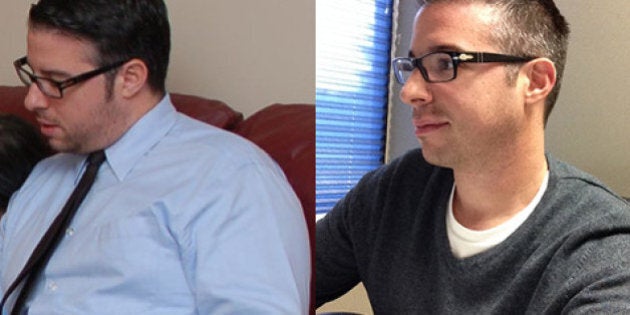 By The Numbers: 265 at my heaviest, and currently 195, total weight loss of 70 pounds.
The Weight Gain: Up until I was 6, I was a mostly skinny kid. But by grade three I was a full-on chunky kid. By the time I was 14, I was properly obese.
I was 220 lbs at my peak, and within five months I had lost 50 lbs to come down to 170 lbs. The loss of weight led me to resolve to push myself harder. I began doing crunches and push-ups every day, and ran four days a week. At my lowest weight I was 152 lbs. I entered into my 20s looking good and feeling confident with life. Sadly, I didn't understand what it took to stay in shape. As I stopped exercising, my weight crept up slowly to 200 lbs by the time I got married at 25. After two years of marriage I ballooned up to 220 lbs...I couldn't believe it.
Meal portions and lack of physical activity were entirely to blame. Enjoying the finer things became less of a treat, and more of a daily habit. I had become a prisoner to low-self esteem, and was generally becoming lazier and more detached to all of life's many responsibilities.
The Final Straw: As I hit rock bottom, I was apprehended by the words of the song 'Stop and Stare' by One Republic, while driving home in May 2013. In combination with being completely broken, and then being inspired by the words of the song, it sparked life into the seed of determination, which instantly focused me into taking action to live my life in the way that I so desperately wanted.
Story Continues Below. Check out more of our inspiring weight loss stories: