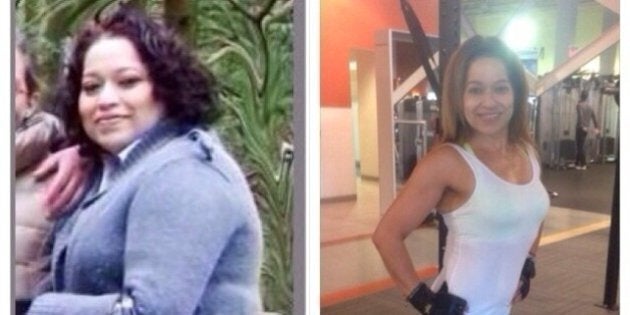 By The Numbers: 220 pounds at my heaviest, currently 110 pounds, for a total weight loss of 110 pounds.
The Weight Gain: Growing up, my weight was fairly average and I was always quite thin through high school. As a teen, I weighed 100lbs. I was always on the skinny side, but never overweight. But my weight gain started after I got married. We were struggling to have children and I started receiving a hormone treatment every day for a year between 1990 and 1991, and I started gaining weight.
Final Straw: The final straw for me was in 2010. I knew I had to change my life around when the photographer at my son's wedding took out all of the pictures that I was in because he thought I had ruined them. I never wanted that to happen again. Feeling determined, I started buying fitness magazines and started looking at what options I had ahead of me.
My 50s were approaching, menopause was starting and I wasn't happy with myself, physically or emotionally. I knew I had to make a change before it was too late. No one in my circle of friends or my family believed that I could do it, so I set out to prove them wrong.
The Plan of Attack: On my 50th birthday on February 19th, 2013, I started by changing my diet and exercising for an hour every day. It took me 18 months to lose 110lbs with the help of a trainer. I lost 60lbs in the first year and another 50lbs six months later.
Story Continues Below. Check out more of our inspiring weight loss stories: