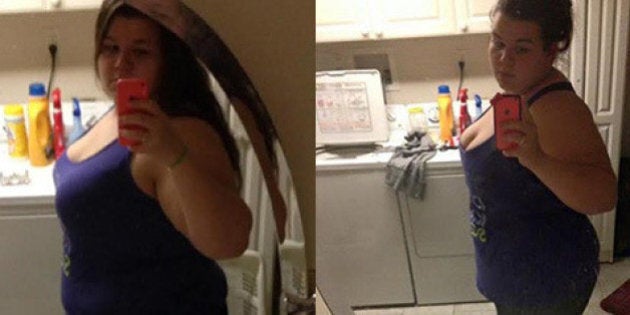 Occupation: Clerk/Student
City: St. Catharines, Ont.
By The Numbers: 295 pounds at my heaviest, currently 255 pounds, for a total weight loss of 40 pounds.
The Weight Gain: I was always a heavier child and always the heaviest in my class. My 'dieting' started at about 11 — I struggled with starvation and I even tried puking [after meals].
Once I tried cutting out food completely by only drinking water — it was called a water fast. I got up to about seven days on pure water and no food. I passed out quite a bit and I was really lightheaded.
Through it all, I was going through depression and anxiety attacks. I could hardly push myself to strike up conversations with people, or go out in public. I hated posting pictures of myself below the shoulders.
Final Straw: I think the main thing that made me realize that I needed to change my life around was when I was at work, and I bent over and my pants split down the middle. I couldn't believe how embarrassed I felt, and I knew I had to do something.
The Plan of Attack: I began eating healthier, cutting sugar right out of my diet and using portion control.
It has only been about seven months since I began my journey of weight loss, but I have lost about 40 pounds so far. I lost 20 pounds within my first two months, and gradually lost the next 20 pounds from dieting and exercise.
Story Continues Below. Check out more of our inspiring weight loss stories: