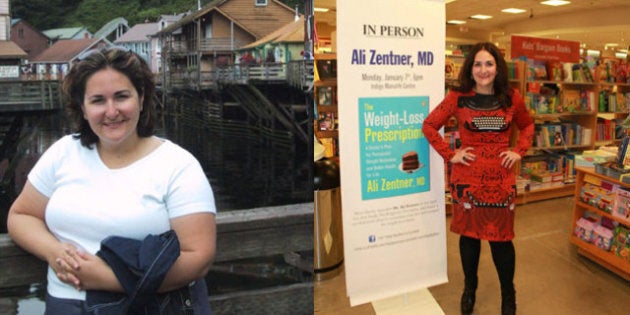 By The Numbers: 326 at my heaviest, and currently 150. Height: 5'4''
The Weight Gain: I struggled with my weight ever since I was a kid. When I was nine years old, my mother took me to see a dietitian. I weighed 120 pounds, and the dietitian told me that if I stayed the same weight for the rest of my life, I'd be fine.
Food always had control over me — I would think about it all the time. I would argue I'd been dieting for decades. I started a variety of programs though high school and my weight fluctuated, and in university, it really started to climb. By the time I was in medical school, I was almost 200 pounds. When I finished I was 260 and when I finished my residency I was 300.
Make no mistake, as a physician who studies this disease [obesity], I definitely know I had a genetic disposition. How we relate to food has a really complex physiology, but you can't discount the environment I engaged in. I was a really sedentary person, specifically through residency and medical school. I was definitely someone who did not eat properly, which was fascinating because I knew what to eat.
The Final Straw: The only story I can really remember is that I was in residency and I bought a ticket for one of those home lotteries and won an elliptical trainer. I'd love to tell you I took the elliptical home and put it in my room and boom! But it was probably months before I got on it for five minutes and I thought I was going to die. And then I thought "I'll just do five minutes again tomorrow." Within a few weeks I started to write down what I was eating, so I started to make gradual changes.
I didn't lose 176 pounds in three years — the bulk of my weight I lost was in the first four years (120 pounds) and the remaining 50 or so has been since then.
Story Continues Below Check out more of our inspiring weight loss stories: