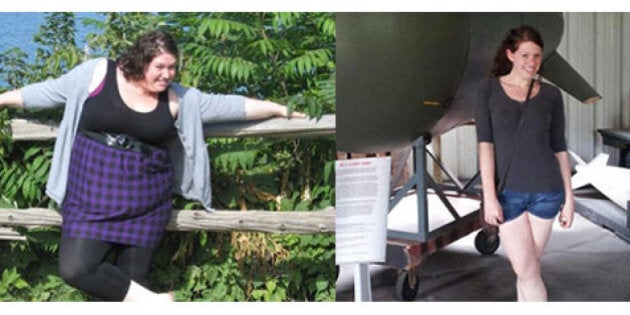 By The Numbers: 287 at my heaviest, and currently 152, total weight loss of 135 pounds
The Weight Gain: As a young girl I was always heavy and always the biggest girl in the class. I remember growing up with parents who were constantly swinging from diet to diet with binging stages in between. Our house was filled with processed foods, quick meals and snacks galore, which for someone who found the need to eat to deal with emotions was a home of temptations.
The height of my heaviness was my second year of university, where I had free-range of buying groceries, and I partied and slept-in quite a lot.
The Final Straw: I finally decided to change my life around at the end of my second year of university. This was right after a break up with my boyfriend at the time and more importantly after seeing some very unflattering images of myself at my cousin's wedding. The moment that I stumbled across that image, in the purple dress facing the side, I finally saw it. I saw what I had been shying away from admitting all those years, the extent of how big I had really become.
I knew that I was going to want more out of life. I was a vivacious, passionate person trapped in a limiting body. I had dreams of finding an exciting path, travelling the world and most importantly helping others. For as long I as I remember I had wanted to go into the social services field, particularly in counselling. How would I be able to assist others going through crisis, mental health challenges, relationship issues, if I did not feel complete and confident in myself?
Story Continues Below. Check out more of our inspiring weight loss stories: