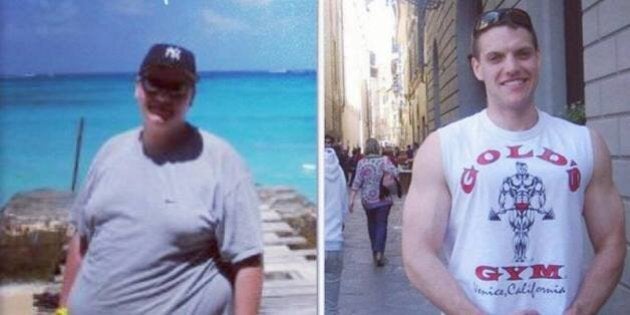 By The Numbers: 450 at my heaviest, currently 235, for a total weight loss of 215 pounds in 18 months. (My lightest weight, however, was 190, so a total of 260 pounds in weight loss.)
The Weight Gain: Growing up, many of my family members were overweight, so there was always an abundance of food in the house. In addition, I was always one of the taller kids and could hide my weight. Once the weight started to show, I was picked on by the other kids and resorted to eating to fill the void.
By high school I was 6'3" but well over 300 pounds, and it continued until my first year of university when I hit 450 pounds.
The Final Straw: A combination of self-interest and the help of my friend Jared Heft. He was really concerned for me and looked out for me. In addition, I wanted to really enjoy everything my school (Western University) had to offer.
Story Continues Below. Check out pictures of Matthew before and after, and more of our inspiring weight loss stories: