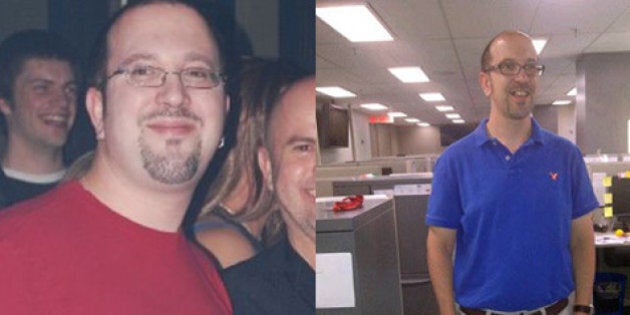 WHO: Jamieson Wolf, writer and office worker
By The Numbers: 310 at my heaviest, currently 170, for a total weight loss of 140 pounds
The Weight Gain: I had always been a big kid and was often teased for being overweight. I remember one time in junior high when a fellow classmate was telling people whether they were fat or thin by placing her hand on their stomachs. She didn't even look at me before she said "fat."
My weight gain started when my marriage to my ex-husband wasn't working. He ate big meals: half a plate of meat, a quarter filled with veggies dripping in butter and instant potatoes or noodles.
It also didn't help that the relationship had become poisonous over time. I told myself that I was eating because I was happy. The truth was that I was trying to fill my sadness with food. It didn't matter what it was: chocolate, chips, candy. Portion size was a problem, too. I was eating two to three times what a person should eat at a meal.
The Final Straw: Things really came to a head for me in 2010 when I was trying on dress pants in an Old Navy changing room. I hadn't been on a scale since the last horror show. I kept asking my ex-husband to bring me bigger and bigger sizes: 34's didn't fit, neither did the 36's or the 38's. Finally, at a waist size of 48, did the pants fit me properly.
I felt pathetic and bereft. I stood there in that dressing room and wondered how it was big enough to have me inside of it. I hated myself then, hated everything about me. When I came out of the dressing room, I felt as if everyone was staring at me and how big I was.
Society places so much importance on how you look, never stopping to think that the person probably hates themselves anyway; I sure did.
Story Continues Below. Check out pictures of Jamieson before and after, and more of our inspiring weight loss stories: