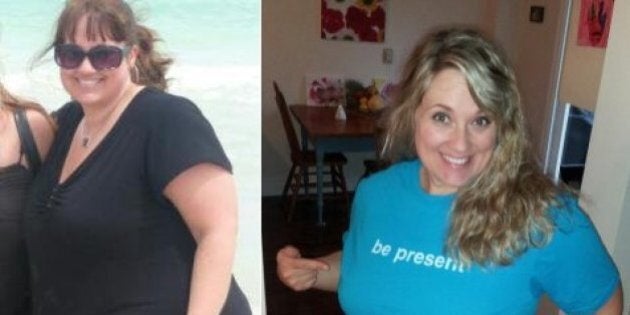 By The Numbers: 270 at my heaviest, and currently 197, total weight loss of 73 pounds.
The Weight Gain: After a childhood trauma at the age of eight, I turned to food for comfort and support. I grew up in the country so we grew our own food. Eating well was not the issue, I just didn't know where to stop.
At 35 and having just given birth to my second child, my body started to fight back. I was plagued with excruciating pain in my right knee. After tests, I was told, as a result of the extra 120 pounds I was carrying on my body, I had arthritis. It was next to impossible to carry my newborn up a simple flight of stairs.
A month later, I was sitting on the couch with my then five-year-old daughter and a commercial came on TV for a popular weight loss clinic. We both sat in silence. At the end of the commercial, my daughter looked at me, very innocently and said, "That's what you need, mom." I cried. But that was still not enough for me to make a change.
The Final Straw: My path crossed with a motivational and heart-felt personal trainer. She was a vendor at a trade show I was putting on for a client. I heard her speak for 20 minutes and I was convinced. I walked up to her at the end of the long day and told her, "I don't know how or when, but I know we are meant to work together." We started working out that year.
Story Continues Below. Check out more of our inspiring weight loss stories: