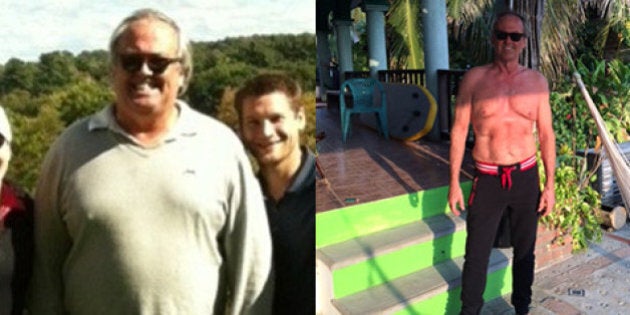 By The Numbers: 300 at my heaviest, and currently 215, total weight loss of 85 pounds
The Weight Gain: I always gained weight very easily as a child. My weight was OK during my late teens and 20s, because I was very active and was living in Miami at the time.
I started to gain weight when I came back to Hudson to help my dad run the Chateau Du Lac bar. I was working seven days a week and was always surrounded by liquor and parties being in the hospitality industry.
In 2010 I was asked to appear on the "Canadian Pickers" television show and the week before my episode was scheduled to air, they released a two-minute teaser of the episode on YouTube. When I watched it I was horrified by how big I looked. I even refused to watch the entire show for a full year. But it still didn't make me do anything about it. I justified it by telling myself that I was just meant to be big and that I would just have to deal with it. I ended up appearing in the next three seasons of the show and just continued to get bigger and sicker.
The Final Straw: The final straw came on Jan. 1, 2013. I was having lunch with a nurse and I told her I was worried about having diabetes. She was a childhood diabetic herself and always had her glucose meter on her. She suggested we take my levels later on and I reluctantly agreed.
Around three or four hours after lunch she checked my blood and her face went white. She showed me the result and it said 26.8. I asked her what that meant and she explained that between four and six is normal and that they are instructed to call for an ambulance when someone hits 27.
Story Continues Below. Check out more of our inspiring weight loss stories: