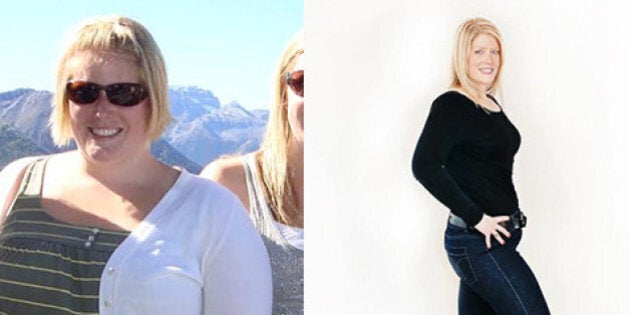 Who: Sarah Courtney Timleck
Occupation: Occupational therapist
By The Numbers: Total weight loss of 115 pounds.
The Weight Gain: I was always on the heavier side, but remained active and healthy. In 2003, when I went away to university, the weight gain had started. I tried Weight Watchers a few times, but it was difficult to maintain while living the university life.
Final Straw: On New Year's Eve, just before ringing in 2011, I promised myself the year would be different. I promised I would not let another year go by without making a change and taking steps to get my life back. Previously, I would set a weight loss goal only to be even heavier the next year. My weight was just too overwhelming as I was not far from the 300 pound mark.
But this time was different. This time I was going to do it no matter what. I felt unstoppable. I was so tired of being trapped inside my own body and not letting the real me shine.
Accepting the reality that I was almost 300 pounds, wearing size 24 jeans, at a high risk for heart disease and well on my way to diabetes at only 26 years old was one of the hardest things I have ever done in my life.
The Plan of Attack: Life before my weight loss journey was great. I was the bubbly and fun Sarah that always lit up the room. I was the "life of the party" kind of a girl, always making people laugh, and very social. One day I stopped ignoring reality. I finally realized that morbidly obese girl in the mirror was me. I accepted the harsh reality of my situation — my 290 pound situation — and I realized I was responsible for it. Until I accepted it, I could not do anything about it. I am just like everyone else, and like everyone else, I didn't want to be that way anymore.
Story Continues Below. Check out more of our inspiring weight loss stories: