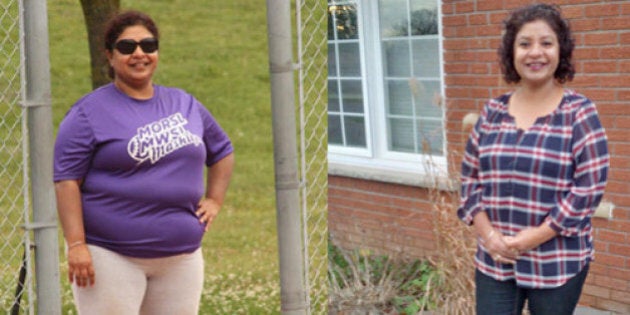 Occupation: Pharmaceutical consultant
By The Numbers: 240 pounds at my heaviest, currently 190 pounds, for a total weight loss of 50 pounds.
The Weight Gain: I was always what you call 'heavy boned' growing up. So I was never a 'skinny' child. But I started putting on excessive weight in my first year of university. After that, I gained an additional 25 pounds after each of my two pregnancies.
Final Straw: On a trip abroad in November 2014 I had to ask the stewardess on the plane to provide an extension belt so I could buckle myself in.
That incident on the plane hit me hard. I hated my self-image and was spiraling down the vicious cycle of binge eating to improve my morale. My family was concerned for my health, I couldn't climb steps in my home without wincing in pain. I felt 'ugly' all the time.
"I am still not at my target weight but I don't stress over it as this is not a sprint but a marathon."
The Plan of Attack: In the past I had tried every diet and supplemented with weight loss pills. It wasn't until Dec. 2014, when I came across a Facebook ad for Go Girls Transformation and read the reviews that I found a style of workout I had never tried before. So I signed up for a trial pass, hoping that it would help me focus on getting healthy.
Story Continues Below. Check out more of our inspiring weight loss stories: