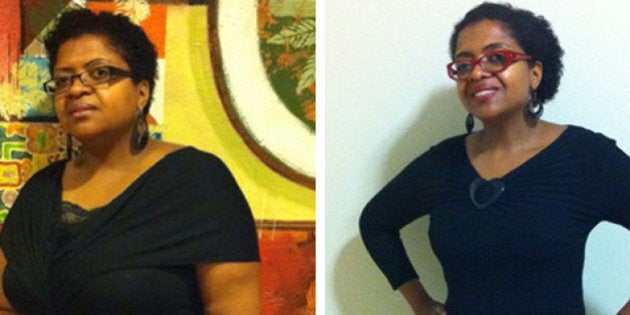 By The Numbers: 194 at my heaviest, and currently 142, total weight loss of 52 pounds
The Weight Gain: As a child, I didn't look overweight until I was around eight. I recall family and friends commenting on my size and how I looked "big" and older than my age.
After I had my daughter 18 years ago, my weight became a problem. I just didn't lose much weight after having her. After I had my son (13 years ago), I knew I had a weight problem. I was always tired, and I know I was always eating because I needed the energy boost. I ate when I was hungry, but also when I was tired. Basically I ate constantly.
The Final Straw: In October 2006 my husband died suddenly. I lost weight immediately afterwards, but ended up putting on more weight as I dealt with the immense stress that followed. I worked full-time and suddenly had to find daycare, and help console my children. I was also dealing with noisy neighbours. This impacted my sleep and just added to my stress.
By 2012 I went to see a family doctor for the first time, because I was in all sorts of pain. I couldn't go to the gym. I would walk and suddenly my knees would go out on me.
I asked my church to pray for me and went to a healing service in August of 2012, and the next day I went and openly spoke to my doctor. Instead of just saying "OK" when she told me to lose weight, I opened up to her and told her that I wanted to.
Story Continues Below. Check out more of our inspiring weight loss stories: