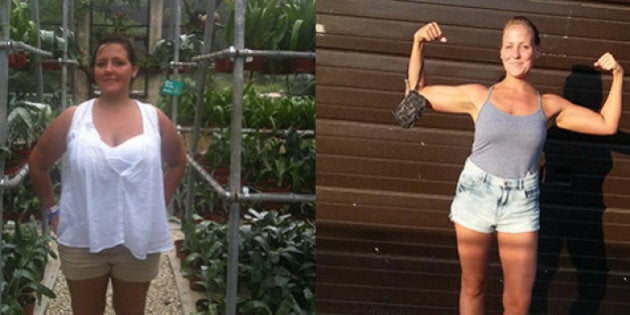 Who: Karen Elizabeth Vasconcelos
Occupation: Personal support worker
By The Numbers: 215 pounds at my heaviest, currently 134 pounds, for a total weight loss of 81 pounds.
The Weight Gain: From the age of nine up until high school, I was a chunkier kid and got teased about being heavier.
But the weight gain started after high school, during my first year in college. I gained weight rapidly due to stress and improper eating. My schedule was all over the place and becoming a personal support worker didn't help at this point — the shift work was definitely taking a toll on my body.
Final Straw: "I could no longer fit into a pair of jeans I had purchased a few weeks prior and I was feeling so uncomfortable in my own skin. I had avoided taking photos to face my weight gain, but I woke up and realized I needed to change."
The Plan of Attack: As cliché as this may sound, I started by clean eating and tracked my weight loss by taking a photo of myself every three to four weeks to track my progress. I ate more regularly and drank eight to 12 cups a day. My goal from the beginning of this process was to try and manage my nutrition on my own by following the food guide and clean eating.
I began my weight loss journey Feb. 22, and I've lost a total of 81 pounds.
Story Continues Below. Check out more of our inspiring weight loss stories: