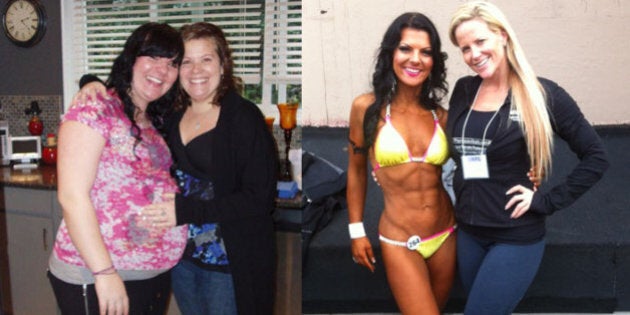 By The Numbers: 242 at my heaviest, 129 now, total weight loss of 113 pounds
The Weight Gain: I used to be really active in high school and was on the volleyball and basketball teams, and I even did field hockey. I was also in cadets, and pretty much ate what I wanted to. I gained some weight in my last year of high school, but lost it in the following years by walking to work and fortunately, having a roommate who cooked most of our meals.
Then around the age of 24, I got into a serious relationship, moved out from my roommate, stopped going to volleyball, stopped being active in general. We actually both ended up gaining weight — I gained nearly 50 pounds and he had gained 45. You can imagine, we just loved one another and loved eating together. I stayed heavy for a good three years and I remember my breaking point was when I was almost into a size 18 pants.
I gained and lost probably 30 pounds at that time, going through a divorce, emotionally eating my way through it and then getting myself back to where I wanted to be weight-wise. Then I married my now husband and got pregnant, but about a month after my son was born, I was sitting at 242. It was the most I'd ever been.
The Final Straw: With the weight gain before it had been my pant size, but now it was seeing photos of me holding my son and thinking 'Oh my God, I want to be around for him. I want to be healthy for him and my partner and me.' I knew the time was now and that it had to be forever. My biggest thing was that I didn't want my son to grow up going through weight problems like I did.
Story Continues Below. Check out more of our inspiring weight loss stories: