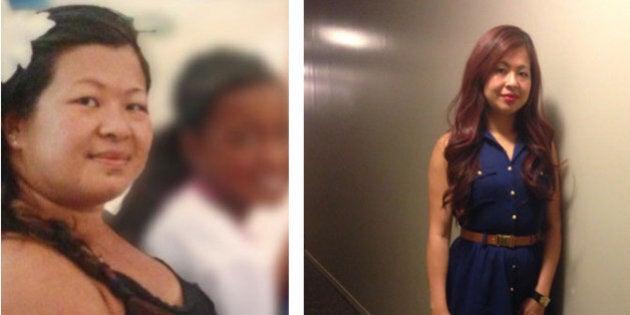 WHO: Yeeshin Loh, manager at a retail store
By The Numbers: At least 151 pounds at my starting point, and currently 125, total weight loss 26 pounds.
The Weight Gain: After having my daughter at 18, I managed to lose all of the [pregnancy] weight quickly. When I turned 25, I was diagnosed with polycystic ovarian syndrome (PCOS). Since I was young and already had one child, the doctors all looked at it from a fertility standpoint. They would tell me that I should have no problems conceiving in the future, and they would all tell me to "lose a few pounds." Asking someone with PCOS to lose a few pounds without guidance is like asking a paraplegic to run a marathon without prosthetics. Due to the lack of information and guidance, I kept my diagnosis in the back of my head and went on with my daily life.
As the years went by, I began to notice that my weight kept creeping up despite being mindful of what I ate. I am 5'3", and at my heaviest was 151 pounds (that I tracked, it could have been higher). I remember playing Wii Fit with my daughter and when I plugged in my info, my avatar frowned and said that I was obese. Yikes! That was embarrassing, even though it was only in front of my daughter, and it terrified me.
The Final Straw: The final straw was when I was away on vacation in Cuba in 2010. There I was on one of the most beautiful beaches in the Caribbean and I was covering up. I can remember paying for a photograph of myself with the dolphins and I was shocked and disgusted with the picture that was handed to me. I've never shown anyone that picture and vowed that no one would ever see it, until now. I knew that I had a little person who watched everything I did, and if not for myself, I had to show her how to live a healthy life.
Story Continues Below. Check out more of our inspiring weight loss stories: