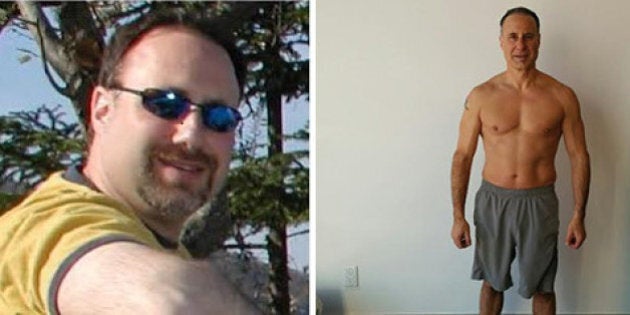 By The Numbers: 237 pounds at my heaviest, currently 162 pounds, for a total weight loss of 75 pounds.
The Weight Gain: Growing up, I was average to slightly overweight. The weight gain started when I joined the Toronto Police and started working shifts.
At this point, I had not tried any diets.
Final Straw: It wasn't the chest pain I would feel due to my obesity, or my doctor's plea for me to make some changes. It was actually a conversation with my eldest daughter Mimi a few years ago. After a diving lesson, we were walking back to the car and I asked her:
J: Mimi, when you're on the board waiting for the coach to give the go-ahead to drive, do watch the other kids like Nick and learn from them?
M: Oh Daddy, he has one of those packs.
M: You know, on his stomach.
J: Oh, you mean a six-pack?
M: Yes, but you don't have one.
J: Actually, I do Mimi, it's just hidden by chicken wings and beer.
This was my final straw. I realized that the image my daughter had of me was one of someone who is overweight and out of shape. I needed to change my attitude towards food and fitness.
The Plan of Attack: I hired Poul Nielsen as a personal trainer, and also worked hard on my own. I listened to his advice, and was motivated to change my ways. I stayed true to the plan designed for me, instead of just making my exercise routine up as I went along.
"Before this, my fitness was very poor, and was getting worse. I felt chest pain, my joints hurt, I was irritable and chronically tired."
When I finally got serious, I lost 26 lbs in one year — and most of it was fat!
The Exercise Factor: Poul and I have been working together for over 10 years. I enjoy the creativity of my workout programs, and I like how I don't need a gym to get fit.
Before this, my fitness was very poor, and was getting worse. I felt chest pain, my joints (back, knees, shoulder, etc.) hurt, I was irritable and chronically tired. I also wasn't coachable, so even if I knew what to do, I wouldn't change it.
I train with Poul once a week and follow his customized programs. I motivate myself to follow the programs, and we track my progress to help keep me encouraged.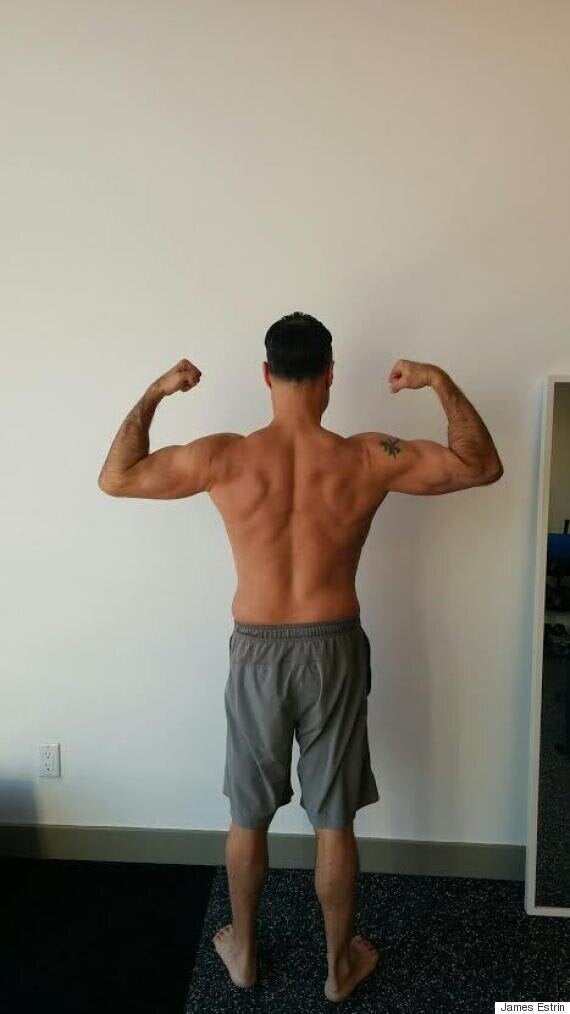 The Food Element: I started eating salads with olive oil and lemon, and a serving of protein, alternating between chicken, meat and fish. I increased the amount of water I drank as well.
I also became more mindful when eating, and this continues to help me enjoy what I eat. The hardest adjustment, however, was initially portion size and no second helpings — I love food and cooking.
I've also never counted calories. I focus on the glycemic index by eating a low glycemic diet, and strategize when I'm going to eat and exercise to help keep my metabolism high.
The Current Day-to-Day: My days are balanced between work, driving the kids to school and programs, as well as looking after our dog Duke. I try and work out in the late morning or early afternoon during the week, and early in the morning on weekends before everyone wakes up.
Every evening I make my breakfast shake, I eat snacks throughout the day and eat smaller meals with greater frequency. This way I never feel hungry, and my energy throughout the day doesn't suffer. I also limit alcohol consumption to social occasions and dining out.
I am proud of the amount of weight I've lost and that I am better shape than I was in my twenties. I am also a better example to my family, which is very important to me.
My advice? Educate yourself about the foods you're eating. Once you understand what you're putting into your body and what it does, you can't help but be motivated to change your ways. Improve your knowledge regarding fitness.
Do you have a weight loss story to share? Send us an email at CanadaLiving@huffingtonpost.com to be featured on our Lost It series.