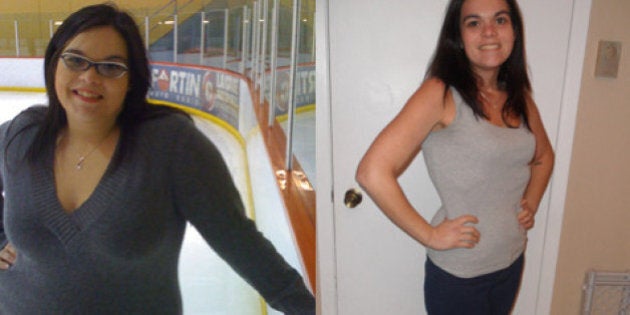 WHO: Julie Piette, works in accounts receivable
CITY: Deux-Montagnes, Que.
By The Numbers: 235 at my heaviest, currently 135, for a total weight loss of 100 pounds
The Weight Gain: I was skinny up until the age of eight — that's when I started putting on weight. I grew an appetite, and it didn't take long for the extra weight to set in. I remember going to the pediatrician and him telling my mom I was overweight, that I needed to start exercising and being careful with what I eat and when. But I was already eating out of boredom and becoming more and more lazy.
The only diets I tried were to not eat junk. At this point I was 13 and well into my teen years. Trust me, the world made it a point to tell me that I was fat. Throughout high school I managed to lose weight but it was always a yoyo. By the time I was 25, I went on the scale and was so disgusted with myself. I tried multiple diets, like a naturopath, dietitians, and fitness classes. I just was not into it, and of course like all things, we expect immediate results, which only discouraged me more.
The Final Straw: When I found out I was pregnant with child number two, I was so worried about how much more weight I would gain. It was then that I decided the minute I gave birth that I'm going to do it once and for all. For me, for my kids. Being overweight takes a lot out of you. Self-worth, self-confidence, self-esteem, not to mention health issues. I hated myself and it was affecting my home life. It wasn't fair to myself or the people around me.
Story Continues Below. Check out more of our inspiring weight loss stories: