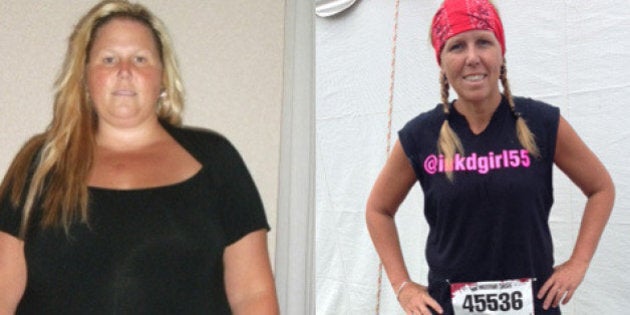 By The Numbers: 284 pounds at my heaviest, currently 160 pounds (though 140 pounds at my lowest). Total weight loss of 144 pounds.
The Weight Gain: I was always the "chunky but funny" girl growing up. I played sports and was always outside playing, but the weight never went down. During college, I was still pretty active and fit , but once I was married and comfortable the weight slowly started creeping up. Then I had my three kids and I just couldn't get the weight off. I was also not as active as I could have been.
I remember trying Weight Watchers, Atkins, South Beach and NutriSystem — you name it, I tried it! I even tried those nasty pills that wreaked havoc on your guts.
In 1998, I had a vertical banded gastroplasty done in Edmonton. They basically cut my stomach in half, then put a mesh band around the usable stomach to form a pouch. In 2009, I became very sick and couldn't keep any food or liquids down, because the mesh band had so much scar tissue it had closed itself off — it was less than the diameter of a pinkie finger. I had a surgeon who told me the only fix was to completely reverse the original surgery, and my weight just ballooned. I was so nutritionally deficit and starved that my body grabbed every calorie it could, and I gained 100 pounds.
Final Straw: I was fat, unhappy and scared that I couldn't get a seatbelt around me on a plane. I remember sucking it in so hard so I would not have to ask for an extender! After that plane trip, and subsequent roller coaster rides where I was again fearful of not fitting into the seat, I decided this is not who I am. Change needed to happen.
Story Continues Below. Check out more of our inspiring weight loss stories: