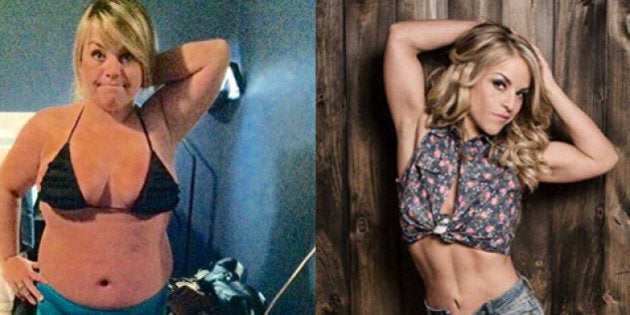 By The Numbers: 177 pounds at my heaviest, currently 112 pounds, for a total weight loss of 65 pounds.
The Weight Gain: As a kid, I think I could have been categorized as the "chubby" one. I was your average kid who played multiple school sports, and played additional soccer and tennis outside of school.
Slowly from high school on, I started to put on weight. I enrolled in a practical nursing program, and two years of bad studying habits, long nights, stressful days and the odd party or two later, I was 20 pounds heavier. I was probably about 150 pounds when I graduated from college in 2009. I took a permanent job with the local health authority as a licensed practical nurse.
Final Straw: In the summer of 2011, when I least expected it, something bad happened – something that would change my life forever. I was put off work by my doctor indefinitely and told I was experiencing symptoms of Post Traumatic Stress Disorder (PTSD).
I was finding myself so easily overwhelmed. I would cry a lot more and started to have nightmares. I was given anti-depressants and anti-anxiety medication and was set up with a counsellor, but after a few months of that, I found myself even more frustrated, even more helpless.
I found my comfort in sleeping pills and food, and blew up to my heaviest weight of 178 pounds.
The Plan of Attack: My best friend and roommate at the time, Lori, was an avid gym-goer, and encouraged me to go with her. I tried on and off but at first, but eventually it caught on. At first, I saw a trainer at the gym and I thought he was gorgeous. Next thing you knowm I had signed on for three sessions a week for almost the better part of a year. Slowly but surely the weight started to move. With every week, I saw more change. With every pound I wanted to lose another. It was constant motivation watching myself empower myself! It helped with my anxiety (punching things is legit – do it), then it became an addiction of sorts… but a good one.
Story Continues Below. Check out more of our inspiring weight loss stories: