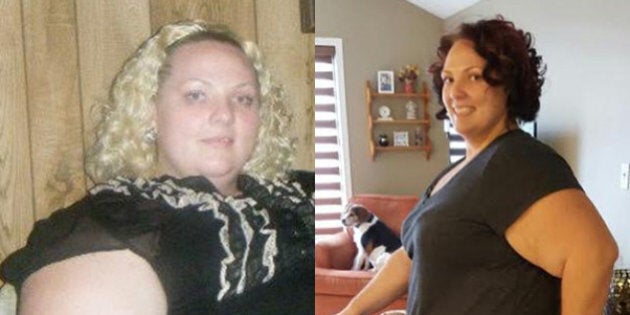 Who: Ashley Karen Reynolds
Occupation: Real estate law clerk
By The Numbers: 388 pounds at my heaviest, currently 278 pounds, for a total weight loss of 110 pounds.
The Weight Gain: I was an average-sized child, but when I was in my mid- to late twenties, my weight went well into the 200s. I'm not making excuses, as my diet was never great, but I also unfortunately experienced three separate motor vehicle accidents that required time off work, limited physical exercise and physical therapy. It reduced my mobility, and coupled with a poor diet, the pounds began to add on quickly. I suffered some mild depression as a result and used food as a coping mechanism.
At that point, I tried several diets. My parents paid for Beverly Hills Weight Loss Clinic on two occasions, I used Dr. Bernstein and other over-the-counter diet pills. I tried watching my weight and joining gyms, unfortunately nothing was consistent. I would lose 10 pounds and gain it back.
Final Straw: I was 370 pounds in 2013. I had gone through a horrible time. I had lost five family members in six months, three of which were grandparents. I just cried and ate.
Less than a year later, I was 388 pounds. I thought I was doomed to fail. I mean, if I couldn't even make a weight loss surgery work for me, then there is no hope. I contemplated suicide every day. I thought about how much money I spent on the surgery and the cost of a funeral that my parents would incur. I had a plethora of health issues, heart disease, pre-diabetic, high blood pressure, anxiety, sleep apnea, and insulin disorder. I felt like I had failed at being human. I questioned how I let myself get this way.
I started by seeing a naturopath who put me on a Paleo Mediterranean diet (lean proteins, green, leafy vegetables, lentils and no dairy or sugar).
Story Continues Below. Check out more of our inspiring weight loss stories: