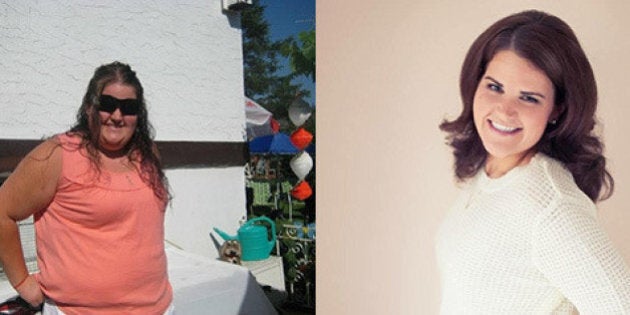 Occupation: Seafood monger
City: St. Catharines, Ont.
By The Numbers: 260 pounds at my heaviest, currently 149 pounds, for a total weight loss of 111 pounds.
The Weight Gain: As a child I would always be that little girl with the round cheeks, and the older I got, the rounder my body got. I was always active in sports, but my body just seemed to keep getting bigger. I really started to gain weight in high school and college, and I was not educated in proper eating habits.
I would stock up on junk food and hide it in my room. At one point, I tried the LA Weight Loss Diet and lost about 10 pounds, but did not stick with it because I found it too expensive. I also was embarrassed to tell my friends about it and tell them why I couldn't eat certain foods or why I was only allowed to eat a certain amount.
Final Straw: It was a picture I saw of myself sitting at a patio with a bunch of my friends. I hated the way I looked. I was embarrassed and humiliated and knew I had to do something to change myself.
But the final straw was around the age of 24 and I wanted to go skydiving with a friend but the skydiving place had a weight discretion — I had to lose about 20 pounds to be able to skydive.
The Plan of Attack: I started by gaining knowledge about which foods to eat and how much to eat. I also started slowly working out by playing sports (baseball, dodgeball), joining a local aquafit class, and dusting off the treadmill in my basement and walking on it for a half hour each day. In the first year I would say I lost about 50 pounds. .
Story Continues Below. Check out more of our inspiring weight loss stories: