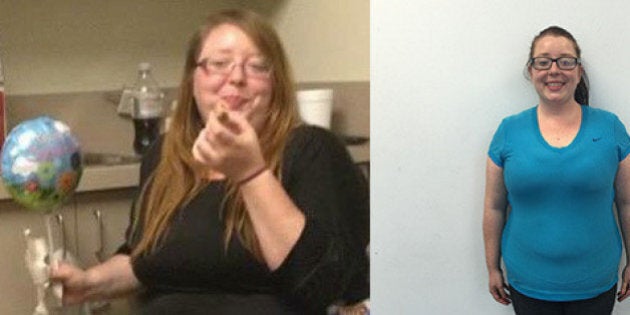 Occupation: Clinic coordinator
By The Numbers: 266 pounds at my heaviest, currently 197 pounds, for a total weight loss of 69 pounds.
The Weight Gain: I maintained an average, healthy weight until I was about 10 years old. After the age of 10, I just kept getting bigger and bigger. I put on the most amount of weight as I got older, and realized I could get whatever I wanted to eat without the permission of my parents.
At that point, I had tried multiple fad diets and basic diets throughout my teenage and young adult years. Most of my diets would last a few weeks at the very longest, and then I would give in to the many temptations surrounding me.
Final Straw: Three years ago, after battling obesity his entire life, I lost my cousin Robbie to a massive heart attack at the very young age of 27. Before this had occurred, having a heart attack or even heart issues had never crossed my mind. Since that day, the thought has never left my mind. He was part of my inspiration to change my life around.
For a long time, I was too afraid to step onto a scale and see my weight. Finally at work, in March 2015, I got the courage to step on the scale and I was horrified. I remember seeing 266 pounds and tears instantly rushed to my eyes. It was at that moment, I knew it was time to change and quickly.
The Plan of Attack: Towards the end of March, I kept seeing one of my friends on Facebook check in to Go Girls Body Transformation. I had seen advertisements for the gym, so I decided to message my friend and ask her for more information. Two days later I attended a trial class and although it was intense, I knew that this is where I wanted to be. In April 2015, I joined Go Girls with a 12-month membership and started feeling and seeing the results almost instantly. Five months later, I am down 69 pounds and I am at the healthiest I have probably ever been in my entire life.
Story Continues Below. Check out more of our inspiring weight loss stories: