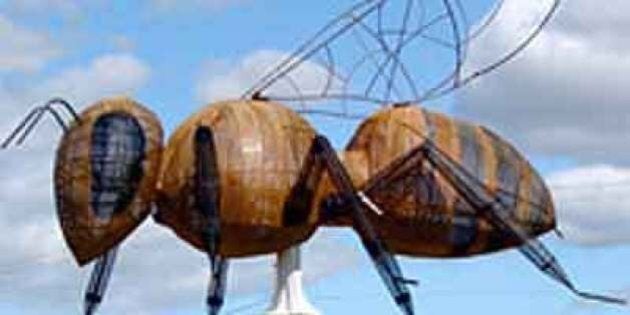 Alberta has never really had a problem flying its freak flag and flying it proudly.
The province is a rich repository of odd destinations, zany attractions and weird landmarks.
Yes, Wild Rose Country does have majestic mountains, an abundance of national and provincial parks, and dinosaur fossil-rich badlands.
It also has some odd attractions. How's this for big? The world's largest dinosaur in Drumheller.
How's this for small? The Gopher Hole Museum in Torrington.
But wacky, amazing, zany, or simply massive, landmarks is where it's at in Alberta, for nothing screams community pride like a gigantic pyrogy on a fork, nothing cries cultural heritage like the world's biggest Easter egg, and nothing says 'I was there,' like a visit to the world's biggest piggy bank.
Some Alberta landmarks are poignant tributes to great sacrifice or historic achievement, such as the Fallen Four Memorial Park in Mayerthorpe, built as a tribute to the four Mounties who fell in the line of duty there in 2005, or the David Thompson statue in Lac Labiche, erected to commemorate his cross continent exploration by canoe and paddle.
And then of course there is a giant metallic dragonfly, a replica of the Starship Enterprise and the world's largest sausage.
The only thing that may be more odd than some of these world-exclusive landmarks, is that those who visit all of them in a year can be entered to win cash through the Alberta Icons contest.
Click through the gallery below to look at the oddest landmarks in Alberta.