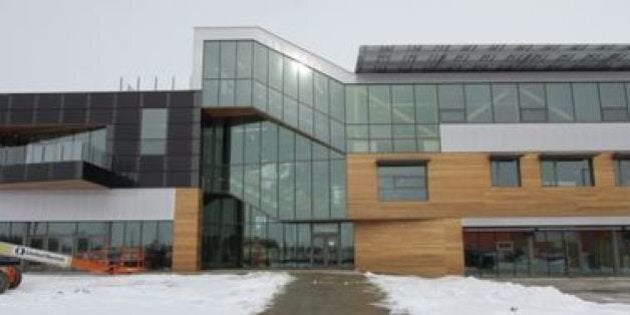 The gap from net-zero house to net-zero commercial building has now been bridged.
When we did our four-part Chasing Net-Zero series last summer we came across a story that we knew we had to cover. The Mosaic Centre for Conscious Community and Commerce was going to be the first commercial net-zero office building in Canada but since the building was under construction the timing just wasn't right.
Well now the desks are set up, the systems are turned on and the mayor of Edmonton even showed up to bolt on the last solar module in a well attended media event. Canada now has its first net-zero commercial office building.
What was once just a dream of co-owners Dennis and Christie Cuku has become reality.
"We said it was going to be beautiful. Check. Sustainable. Check. And affordable. Check," says Christie Cuku.
This 30,000 square foot building cost $10.5 million dollars. It's three months ahead of schedule and five per cent under budget. It's bright and roomy with beautiful exposed wood beams, feature stairs and a three storey living wall in the foyer. It has large south-facing windows, thermally massive concrete floors and as low an electricity load as they could get away with.
They reduced that load by getting rid of as many overhead light fixtures as they possibly could. Instead the workers get copious amounts of natural light and use task lighting when necessary.
More than just solar panels
Making the jump from a net-zero home to a net-zero commercial building requires a lot of work. There is much more energy demand per square metre in a bigger, commercial building. The Cuku's put together a team led by Vedran Skopac of Manasc Isaac Architects that used lean processes and integrated project delivery to build this first of a kind building.
Integrated project delivery or IPD isn't the sexiest thing to write about but it's just as important to getting the building to net-zero as the 213 kilowatts of solar panels that are on the roof and façade of the building.
Typically tradespeople focus only on their job in the construction of a building. They show up, do their job and leave it to the next crew to finish their part. With IPD the people who are building the building share the rewards. They meet early and often and are given collaborative incentives in order to make sure every one works together. In the Mosaic Centre's case they wanted to reduce energy and thermal demand as much as possible in order to get to net-zero.
This close collaboration helps eliminate a lot of the wasted time and materials that happens on a typical build. As a result there were zero change orders during the project, an almost unheard of event in a modern construction project.
Net-zero heating and cooling
The heating and cooling system is fully electric; it's a geoexchange or ground source heat pump system. They turned their parking lot on the north side of the building into a geothermal field with 32 boreholes going down 70 meters in depth.
With all of the south-facing glass and concrete floors the building actually has a much larger cooling load than you would imagine an office building in Edmonton would have. The building actually has to run its cooling system in February when it's minus 10 outside if the sun is shining brightly.
Atypically the building also has windows that open. These help regulate the temperature in the summer and it gives workers a measure of control over their environment. As Skopac noted when he was giving us the tour-fresh air is good for humans.
Owner's vision: Beautiful, sustainable and affordable
"You can throw money at something and make it beautiful and sustainable. That's the reality. But for us to be able to inspire others to want to try to go out and do something similar we knew that it needed to make sense financially," says Christie Cuku.
And the Cukus seem to have found that balance. This is not a science project or a charity case - t's an investment. The building is home to their family of companies but they are also looking for tenants-there are plans for a daycare, a fitness centre and a kind of co-working space.
The building is going for LEED platinum certification and a Living Building Challenge petal certification as well. The Living Building Challenge is an extremely rigorous third party sustainability certification.
"So, sustainable and beautiful can co-exist and when you put affordability in there that's where the real challenge occurs. So, but this is, I think, is a living example of how the three can co-exist," says Christie Cuku.
They want to inspire other builders to follow in their footsteps and to make their commercial buildings closer to net-zero. To that end the engineering and research reports on the building have been made available. If you're a builder and you want to make sure your next commercial building is closer to net-zero, the recipe is out there.