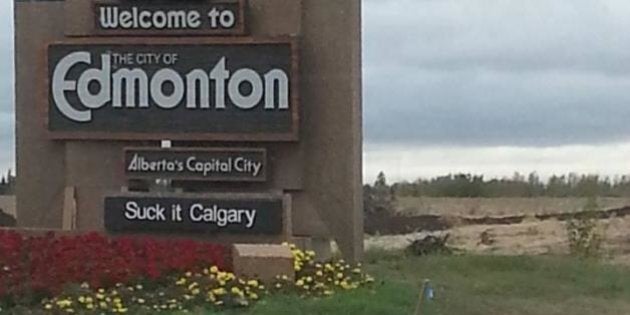 Travellers driving into Edmonton Tuesday were greeted by a prank so intricate it has left many good-humoured Edmontonians chuckling in admiration, while others have branded it nothing more than vandalism.
Solid, manufactured signs sporting slogans such as 'Suck It Calgary,' 'Road Construction City' and 'City of Shenanigans,' were permanently attached to the 'Welcome to Edmonton' signs, complete with similar font, colour and material used to build the official civic signs.
The 'slogans' were placed over Edmonton's original slogan, 'City of Champions' on signs welcoming travellers to the Alberta capital, using construction glue and then bolted atop the originals, reports the CBC.
Co-chair of the mayor's task force on image and reputation, Chris LaBossiere, admitted to the CBC he chuckled when he first heard about the vandalized slogan signs.
"Like everybody, I saw a little bit of Edmonton tongue-in-cheek in it, that self-deprecating sense of humour that we have. I smiled at first," he said.
'City of Speed Traps,' greeted commuters from Stony Plain, while 'Suck it Calgary,' greeted those on the QE2 Highway, which drives to Edmonton from Calgary.
Edmontonians were quick to chime in celebrating their notorious, self-deprecating humour.
"What the construction guys are saying is the longer it sits on the signs, the more damage it will cause," said Budd.
"Depending on how quickly crews can undo the damage and restore the signs, we will probably have an impact on how much damage there is."
Story continues below slideshow
As part of an overall rebranding exercise, the City of Edmonton recently put out a call to find a replacement for its current slogan, 'City of Champions.'
The campaign has been called a waste of tax money, while others say the current slogan is no longer representative of today's Edmonton.
The slogan was adopted in the 1980s, at a time when the Edmonton Oilers were the dominant force in professional hockey and at a time that was particularly kind to the Edmonton Eskimos. But it was the immense community efforts and support following the disastrous Edmonton tornado in 1987 that is the true inspiration for the current slogan.
Popular in the Community