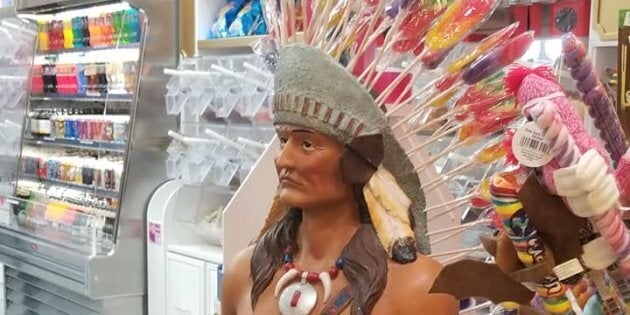 A candy store in West Edmonton Mall has removed a product display after one customer complained that it was offensive.
Montana Courts saw the display, a statue of an Indigenous man wearing a headdress made with lollipops, at Bubble and Gum on Sunday.
"I was appalled that someone had thought that it [was] okay," the recent university graduate told HuffPost Canada in a message. "As a Métis person, I was offended by it."
Courts asked to speak to a manager about the statue but was "shut down," she said. An employee told her to speak to him rather than a manager, and then told her to leave. She asked for a phone number or email to reach the manager and was told to look it up, she said.
Instead, she posted photos of the display to Facebook and eventually filed a complaint with mall administration.
"It was important for me to speak up because, while it might seem like a little thing, it's a microaggression that's a part of a larger problem," Courts told HuffPost Canada. "We have our missing and murdered sisters, a large homeless population, higher incarceration rates, and so on. It perpetuates harmful stereotypes, in addition to being disrespectful about our sacred objects."
Multiple attempts to reach Bubble and Gum's management on Monday were unsuccessful.
Manager Jacki Zahariuk told CBC News that the statue was put in the backroom at the store owner's request.
She said that "everybody loves" the statue and it sells lots of lollipops.
"To me, if it's a sacred image, why would they make it? ... It's a beautiful piece," she said.
A receptionist for the West Edmonton Mall said that the store was asked to remove the statue and was "very co-operative."