Joel VanderHoek, a businessman from Lynden, Wash., shared an open letter he wrote to WestJet after a flight on Saturday from Calgary to Abbotsford, B.C.
"There was a medical incident, and the way it was handled deserves commendation," he wrote in a Facebook post.
VanderHoek went on to describe how quickly the WestJet crew worked with a nurse who was onboard and a volunteer translator to help care for a male passenger who passed out.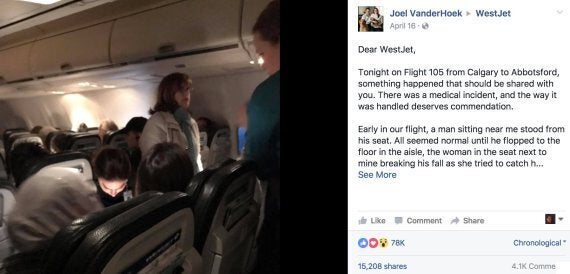 "It was beautiful to see strangers come together as humanity to help one another," he wrote.
"They were so organized, caring, respectful and attentive," VanderHoek said about the flight attendants, who kept the patient's sister updated on the situation.
While medical emergencies on planes do happen on a regular basis, Westjet's staff response was particularly welcome to witness, noted VanderHoek.
"In an Easter week of particularly unpleasant news about airline treatment of customers, I commend you for a culture of kindness and care. It was evident before the medical incident but was made especially clear tonight. Thank you."
Earlier this month, WestJet was named the top airline in Canada, by travel site TripAdvisor, and placed in the top five low-cost airlines in North America sub-category.
Popular in the Community