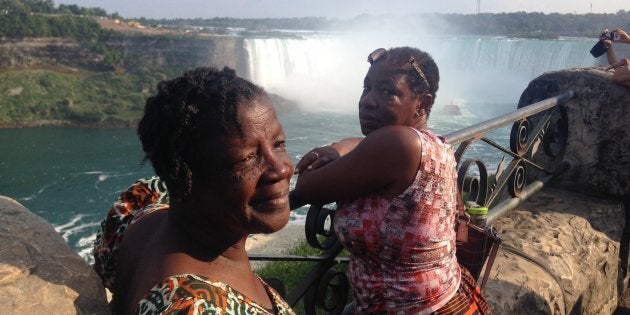 Until last week, Nellrene Walker loved WestJet. She wanted her money to support a Canadian airline; she had good experiences with WestJet in the past; and she liked that its pilots had recently unionized and its flight attendants were likely to be next.
Today, following the airline's public apology for her flight-booking experience, she and her family are calling on WestJet to change baggage policies that they consider "discriminatory" and "ridiculous."
"All we wanted to do was be able to send her home to bury her older sister and be able to take care of her affairs with as little stress and as much dignity as you can muster in that scenario," Nellrene's son, Jared A. Walker, a speech writer and communications director who has worked for the federal NDP, told HuffPost Canada. "But that is not what we were afforded."
The younger Walker detailed his mother's ordeal in a Twitter thread that quickly went viral on Tuesday.
When Walker learned in early June that his aunt Maizel Hyde-Sinclair had died of a heart attack, he offered to help his mother, who is executor of Maizel's will. The logistics were significant, especially because Walker and his mother both live in Ontario now, while Maizel was still in her native Jamaica.
His aunt was a shopkeeper and a matriarch, taking care of a lot of people both in and outside of the family, Walker said. "She was very sweet, but tough as nails. I'll miss her."
Limit on bereavement fare
Because the last-minute flight to Montego Bay was fairly expensive, Walker hoped WestJet would offer a lower-cost bereavement fare. But when he called the airline, they told him the bereavement fare policy requires travel to be completed within two weeks.
Given that it had taken their family three weeks to receive a death certificate, "we were not hopeful about the ability to turn this all around in two weeks," Walker said. "Unfortunately, the civil service in Jamaica isn't super responsive and fast."
So the family decided that the best use of their money would be to fly Nellrene on her own with an extra suitcase full of supplies for their family in Jamaica. "I have younger cousins who are in school [in Jamaica], and people who depended on my aunt," Walker said. "She was a breadwinner. I was like: they need this stuff more than I need to go."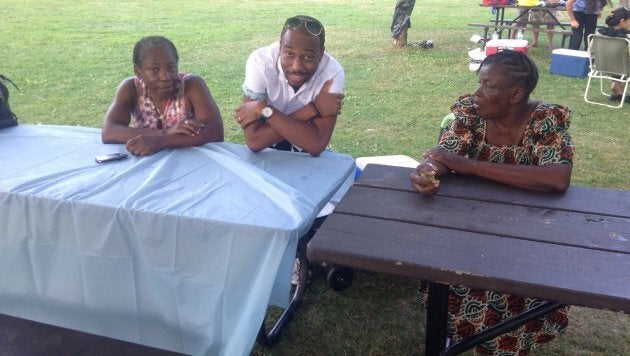 But on Tuesday, the day before his mom's flight, he checked WestJet's baggage policy and was shocked by what he discovered.
Unlike any other WestJet destination, there's no option to book additional bags on the airline's flights to Jamaica or to Trinidad and Tobago. Oversized or overweight luggage to those countries is also prohibited — again, the only destinations that have such a ban.
There is one exception to that oversize baggage rule, as stated on WestJet's website: "one golf bag that must contain golf clubs."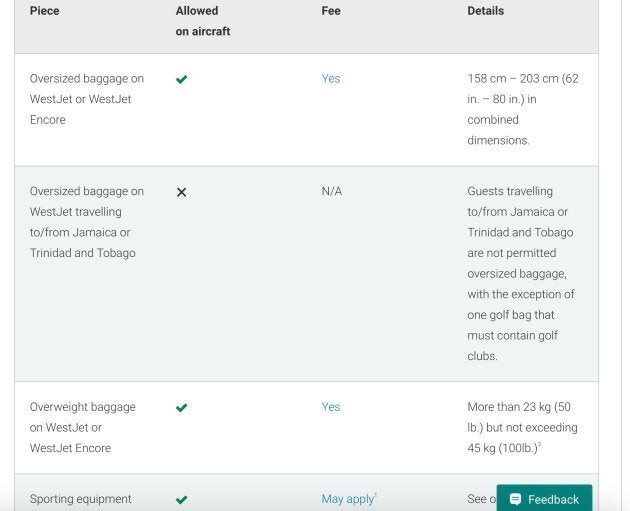 "Having flown to every continent except Australia, I've never seen a baggage restriction like this," Walker said. "It seemed really bizarre to me."
And it seemed discriminatory, he added.
"What is it that makes these two countries different from everywhere else?" Walker said.
'... a big part of any immigrant experience'
The concept of remittance, or sending things back home, "is a big part of any immigrant experience," Walker explained. "Not just for the Caribbean, but anywhere in the developing world."
His family immigrated to Canada in 1995, and "since then, I can't remember a month when we haven't sent stuff back."
The tourism industry in Jamaica drives up prices because visitors to the country can afford it. But many goods that are relatively inexpensive in Canada are out of reach to the average Jamaican's salary. A laptop that Walker sent to a university-age cousin cost him about $300 in Toronto, he said, compared to a price tag of $1,200 in Jamaica.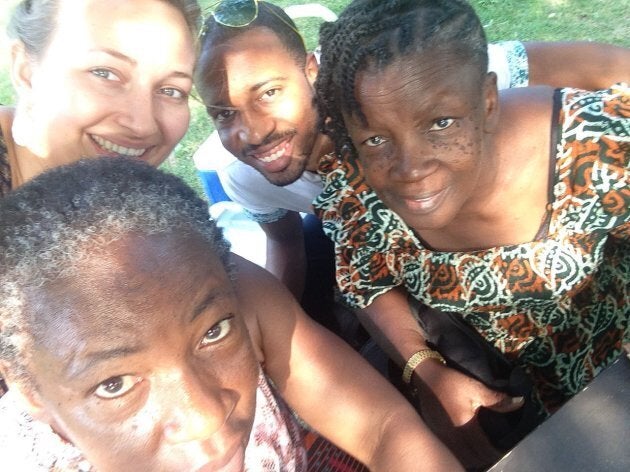 With a good job and a relatively comfortable life, Walker feels it's his responsibility to send money family in Jamaica. Sometimes it's done by money transfer, sometimes he'll send goods in a shipping crate, and sometimes it's by sending things with friends who are visiting home.
"It's sort of part of our culture that I would be part of taking care of people back home who are having difficulties," Walker said. "For people who don't understand immigrant communities, this might be confusing."
The golf club rule
Walker called the airline back and asked if they could get a bereavement exemption to the baggage rule if they provided a death certificate. When WestJet declined, Walker asked for a reason for the golf club rule.
An employee, who Walker described as polite but curt, replied that it was related to weight distribution and that no exceptions could be made. When he asked a follow-up, the line went dead.
"I've never loaded a plane before, but what special property do golf clubs have that enable you to load them into a plane in an easier fashion than anything else?" Walker said. "I've travelled on WestJet to the West Coast, and if my skis wouldn't fit on the flight, they'd send them on the next one. And that's a common practice. So why is there no ability to do that here, and only in those two [countries]?"
On Tuesday evening, after the Twitter thread had gone viral, WestJet responded — in a way that didn't strike Walker as particularly helpful.
But his mother's ability as a Jamaican native to transport golf clubs wasn't the issue. Tourists with enough money to travel were afforded this very specific privilege, Walker explained, when people returning home had no option to bring gifts or supplies with them.
He sighed over the phone: "It's ridiculous."
An eventual apology
On Wednesday, WestJet reached out to Walker by Twitter for a second time, this time apologizing for their previous response.
The airline also tried to reach out via private message on Tuesday night, but it was too late. Walker didn't see it until Wednesday morning, after he had dropped his mother off at the airport.
In a statement emailed to HuffPost Canada on Wednesday, WestJet said it is reviewing the baggage policy related to golf bags in Jamaica and Trindad and Tobago.
"It was never our intention to be discriminatory in this specific baggage policy and we recognize the optics are poor," wrote Lauren Stewart, a WestJet spokesperson. "Baggage limits to Jamaica and Trinidad have been in place for many years as we have historically had to leave bags behind due to the amount of excess checked baggage brought by guests travelling to these particular destinations."
The company declined to answer further questions about what a policy review involved, or what had prompted the golf bag exception.
Walker noted that the company appears to have deleted some of their earlier Tweets to him.
What's next
Walker knows WestJet is reviewing its policy because of his Twitter thread. This kind of situation has likely happened to others, he pointed out, and would have continued if it involved someone from a different family — or even his own relatives.
"It just so happens that they got a person who does communications for a living and he has some time."
While the response has been "90 per cent positive," Walker acknowledged it can still be challenging to go public.
This is sort of the experience ... of a lot of people who are marginalized in one way or another.Jared A. Walker
"This is sort of the experience, frankly, of a lot of people who are marginalized in one way or another," he told HuffPost. "You have to decide whether or not you want to take up the time and the mental energy and potentially the financial cost of bringing something like this to light.
"And if you do, you then need to 'explain yourself' multiple times, and endure whatever disagreements people have about your methods — just so maybe somebody else doesn't have to go through this."
He and his family are not seeking a reimbursement or an exception from WestJet, but a change to their policy.
"I talked to my mom about it, and both of us ... we've both lived in this skin, and we've experienced certain treatment," Walker said. "We both agreed that what they can do for us is change this policy. That's what they can do for us."
CORRECTION: A previous version of this story incorrectly stated that Jared A. Walker works for the federal NDP. In fact, his affiliation with the party ended earlier this year.