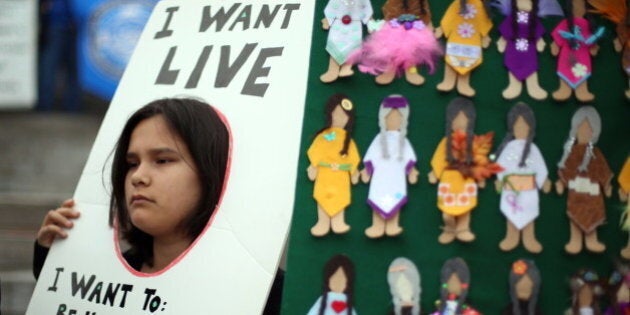 During the October 2013 vigil for missing and murdered aboriginal women, hosted by the Families of Sisters in Spirit (FSIS) on Parliament Hill, Ottawa, a beautiful voice was heard. The voice belongs to Theland Kicknosway, an inspiring 11-year old Pottawatami Cree traditional drummer, singer and hoop dancer from the Walpole Island First Nation reserve in southwestern Ontario.
Last week, Theland walked-and-ran 134 km from Ottawa to the Kitigan Zibi reserve in Quebec. He did it in six days, running/walking approximately five-six hours each day. Theland's personal journey sought to draw attention to the children of missing and murdered indigenous women.
A groundbreaking report released by the RCMP in early 2014, says that 1,181 aboriginal women have gone missing or been murdered in Canada in the last 30 years. While aboriginal women comprise only 4.3 per cent of the Canadian population, they are three times more likely to experience violence than non-Aboriginal women. Aboriginal women also comprise 11.3 per cent of missing women and 16 per cent of female homicides in Canada.
The children of these women are almost forgotten. Our half-hearted national conversation on the ongoing racialized violence against stolen indigenous women barely acknowledges their existence. If there is even an estimate of the number of children affected, please let me know. And yet, the surviving children's loss is unimaginable. They lost mothers, sisters, aunts and cousins. You don't need to be a psychiatrist to understand that the grotesque violence aboriginal women suffer affects the mental integrity of the children they leave behind.
Our lack of interest in the children of missing and murdered women renders them voiceless. It devalues them. And, it means we continue to deny a well-documented national crisis rooted in poverty, racism and marginalization.
Our collective denial was apparent during Theland's walk. The young man journeyed 134 km in six days! The media didn't even notice. Death of compassion? Yes. As well, an amnesia rooted in our collective uneasiness with the very idea of confronting authority. I'll share a personal anecdote.
In 2011, I walked more than 400 km from Toronto to Ottawa hoping to spotlight the corruption perpetrated by a Canadian charity I had been associated with earlier. My journey began at the doorstep of a prominent national media organization based in Toronto. I was photographed by a photographer from a reputable chain of newspapers. On my last day, I spoke with a journalist from a leading media organization in Ottawa. After walking for nine days, I received no media coverage. I learned that when you are a person of colour in Canada and challenge the wrongdoings of the historically-privileged, it takes more than a 400 km solitary walk to be heard.
Theland's journey sought to draw attention to a national disgrace implicating the Canadian state, power elites and all of non-indigenous peoples. It was a child's voice reminding us of our collective culpability in the disappearances and murders of indigenous women.
A report recently issued by the UN's Committee on the Elimination of Discrimination against Women states:
"Canada has committed a "grave violation" of the rights of Aboriginal women by failing to promptly and thoroughly investigate the high levels of violence they suffer, including disappearances and murders... Aboriginal women and their families have experienced serious acts of violence that have significantly affected the right to life and personal security; the right to physical and mental integrity; and their health."
According to the report, "the Canadian police and justice system have failed to effectively protect Aboriginal women, hold offenders to account, and ensure that victims get redress."
The established media's failure to recognize Theland's personal sacrifice masks our collective reluctance to revisit some of the key moments defining the crisis of missing and murdered aboriginal women. Theland's journey began at a site in Gatineau Park, Gatineau, Quebec, where Kelly Morrisseau, an indigenous woman, was murdered in December, 2006. Morrisseau was a mother of three and seven months pregnant at the time of her murder.
According to a statement issued on the even of the journey, Theland was scheduled to make a stop at a spot on Highway 105 in Kitigan Zibi where a Quebec police cruiser robbed Gladys Tolley of her life in October, 2001. Gladys is the mother of Bridget Tolley, an Algonquin grandmother of five and co-founder of the Families of Sisters in Spirit, a grassroots not-for-profit volunteer organization led by families of missing and murdered indigenous women and girls. Every year, the organization and its allies organize the annual October 4th and February 14th healing ceremonies and vigils honouring these victims. Bridget Tolley facilitated Theland's journey.
Shannon Alexander and Maisy Odjick, who disappeared from Maniwaki, Quebec, in September 2008, are two of the most well-known victims. Theland honoured them during his journey, which ended at the Bridget Tolley house in the Kitigan Zibi.
Embedded in Theland's journey was the question: "Is she next?" Our collective answer? Silence.
Theland's Walking 4 MMIW Children journey was about leadership. On the issue of violence against indigenous peoples in Canada, that's something in short supply. It's left to individuals like Theland to show leadership.
First Nations leaders and organizations, rights groups and individuals have repeatedly demanded a fully-funded national inquiry. Professor James Anaya, the former UN special rapporteur on the rights of indigenous peoples, and numerous international figures and organizations, back the call.
But the Canadian state's political and policing elites continue to consciously refuses to acknowledge that indigenous women's live matter. In August last year, Prime Minister Stephen Harper insisted that the senseless violence against indigenous women was not a "sociological phenomenon." During an interview with the CBC News in December, Harper said a national inquiry "isn't really high on our radar, to be honest." According to the Canadian Association of Chiefs of Police, an inquiry "would only delay action." Recently, there was an attempt to exonerate us settlers and blame the violence on aboriginal males.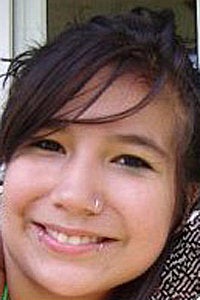 Canada's Missing Aboriginal Women