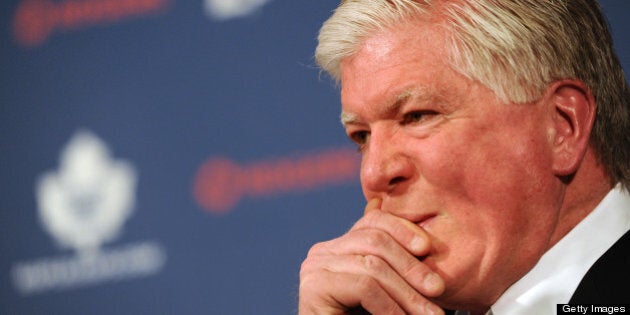 Why would Brian Burke, the former general manager of the Toronto Maple Leafs, launch a defamation lawsuit against a group of seventeen obscure commentators who gossiped online about lurid details of his personal life?
On a practical level, the lawsuit appears to make little sense. Burke's very public lawsuit was carried extensively by the Canadian media and ensures that millions of people are now aware of the actual salacious details that Burke is attempting to stifle. The litigation of the actual lawsuit will bring an increasing spotlight to the allegations and can be defended on the basis that they are truthful. On any cost-benefit analysis, the preferred route for Brian Burke would be to permit the sordid matter to have faded and be forgotten.
The difficulty with a calibrated legal analysis is that it ignores the personal toll on real peoples' lives and the enduring damage that results. The comments that were posted against Burke were unsavoury and scurrilous. It was suggested that he had an affair with a television sportscaster from Toronto and fathered her child. Burke's position in the lawsuit is that these highly charged claims are patently false.
In addition to the emotional toll on Brian Burke and his family resulting from the online allegations, it may be Burke's contention at the trial of the lawsuit that the rumours of his behaviour contributed to his untimely firing by the Maple Leafs' organization, prior to the start of the hockey season.
This week, a British Columbia court ruled that Burke could serve notice of his lawsuit through the virtual medium of online message boards, rather than in person. The ruling is significant, because identifying the actual alleged online commentators can be a daunting process. The defendants will guard their anonymity to shield them from litigation. The court's ruling ensures that the case can now move forward to a trial.
The decision to transmit an online message of a few words to a limited audience may become a risky and expensive proposition. Burke had a position of status and profile as an NHL general manager. He will seek damages from each of the defendants, if he is successful, for the harm caused to his reputation. The defendants may also incur Burke's legal costs which can be substantial.
According to a leading Canadian libel lawyer, Paul Schabas, Burke's lawsuit is part of a trend of cases relating to online lawsuits. He noted that there is a growing awareness by the public of the use of Twitter and social media in general. Courts are becoming increasingly educated about the Internet and they are prepared to eliminate the obstacles that the murky world of social media poses. Online anonymity will not block a legitimate lawsuit. If there is a live issue for a defamation lawsuit to proceed, courts are prepared to order service providers to disclose the identities of the alleged online defamers.
The Internet creates a permanent record that is virtually impossible to erase. It is instantly accessible to an international audience and can be re-transmitted. Its reach is boundless. These are relevant qualities for a court to consider in a defamation lawsuit.
In another online defamation case, the British High Court ruled last week that the Commons speaker's wife, Sally Bercow, had defamed a former Tory treasurer, Lord McAlpine, by falsely implying on Twitter that he was a pedophile. She had 56,000 followers on Twitter. Bercow's lawyer had argued that Twitter was a place where people share ''random thoughts without necessarily meaning anything.'' The High Court resoundingly rejected this claim.
Brian Burke's lawsuit may be settled before it ever reaches court. Regardless, it serves as a useful tool to remind anyone who posts a comment or tweets online to carefully consider the content of their post. The message delivered by the B.C. court in Brian Burke's case couldn't be clearer. Comment online with malice at your peril.