During a recent Girls Flight Out adventure in Scandinavia, Rebecca and Samantha enjoyed great fun and fika in Stockholm, Sweden.
I'm standing in front of the iconic home furnishings store, Illums Bolighus, in Copenhagen, Denmark, transfixed by the window display. I know little about Danish design so it's not that which holds me but instead the slice-of-life scenario playing out behind the glass. Two faceless, wigless mannequins, clad in slippers and pajamas, seem to be gazing out and into the rainy street from their elegantly understated bedroom.
Candles, knickknacks and books stacked askew clutter nearby end tables, and minimalist lamps cast a golden hue suggesting it is mid-morning. From the unmade bed behind them, with its randomly scattered pillows and crumpled sheets and duvet, it appears the couple has just got up and is pondering whether they should stay up or go back to bed. So inviting is the scene that I find myself hoping they'll choose the latter so that I can crawl beneath the covers with them.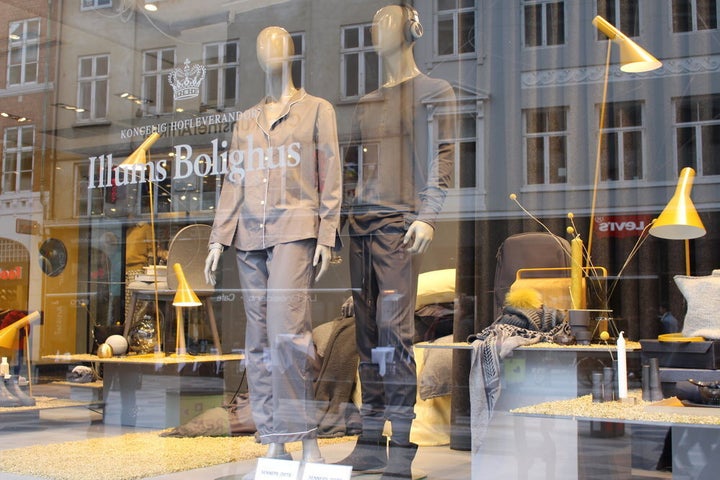 This is hygge at its finest, I realize, its pull so strong a middle-aged woman can find herself fantasizing about a non-conjugal ménage a trois with a pair of synthetic molds.
In case you've just crawled out of a cave (which is perfectly fine so long as it was candlelit) hygge, pronounced "hoo-gah" or "hue-gah," is the latest lifestyle craze, the subject of myriad articles and more than two dozen books, all of which have hit the shelves during the past year.
Its usage was so high in Britain in 2016 that the word hygge was admitted to the Collins Dictionary along with Brexit and Trumpism. Collins describes it as the practice of creating cozy, congenial environments that promote emotional well-being. It's hot beverages and knitted things, cozy nooks and comfort food, candles lit with wooden matches, never batteries. It's about bicycles with woven baskets, cushions, blankets and books. It's about a small group gathering at someone's home, enjoying the pleasure of each other's company huddled around a hearth.
And it's about to hit Canada hygge style — not so much like a tsunami, but more like a warm wave washing over us and sweeping us up and into a state of euro-phoria.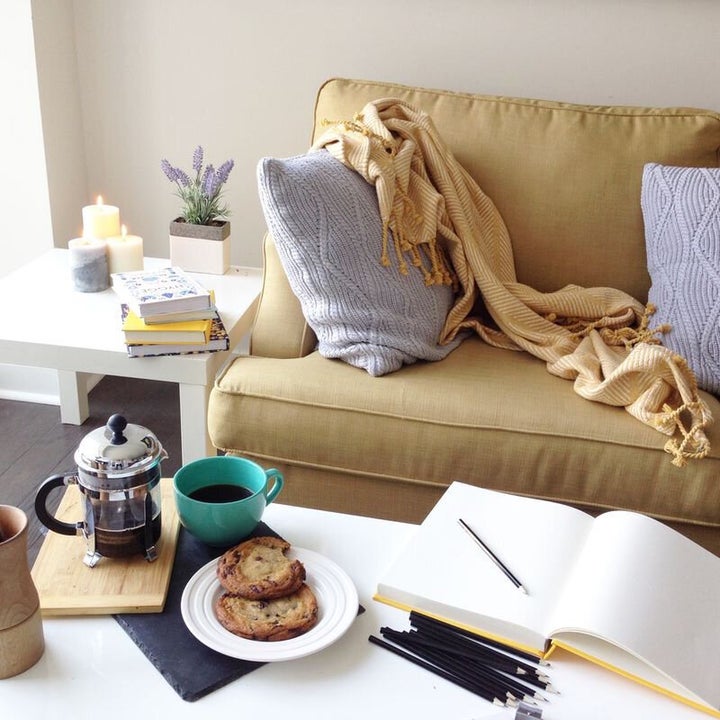 When I first heard about hygge, I didn't have to rush out and purchase the props. I'm Canadian after all and already possess mugs, sweaters, candles and most of the other trappings. So why then, when I surround myself with such belongings don't I experience overwhelming joy? Because although certain things promote hygge, it is a state of well-being achieved when you feel comfortable being yourself in the presence of people you love.
Hmph, I thought. Well I love my daughter, Samantha, and she's working in Europe right now so that's why I'm over here to meet up with her to experience hygge, and a few other Scandi trends, firsthand.
According to Meik Wiking, the author of the best-selling The Little Book of Hygge: the Danish Way to Live Well, the concept of hygge isn't new, just the attention surrounding it. In part, the hoopla stems from the fact that Danes consistently place first or second in the UN World Happiness Report, a survey that ranks happiness levels in more than 150 countries. Could hygge be the secret to happiness?
Hoo-gah poo-gah, say the skeptics. Denmark and the rest of the Scandinavian countries do well on happiness surveys because they live in welfare states with good wages, free university and cradle-to-grave healthcare. Indeed health and income are among the six factors measured in the World report, so certainly, financial stability and access to affordable healthcare weigh in.
But so too do social relationships, which play a huge role in hygge.
Although you can experience hygge alone — reading a book by candlelight beneath a cozy quilt, say — the most hyggelig times involve a small group of people, three or four being ideal. After that, according to Wiking's book, the hygge manifesto includes turning the lights down and the cellphones off, breaking out the cookies and cakes, allowing equal time for everyone to speak within a conversation that ideally is void of high drama.
And then, there's gratitude. Take it in. This might be as good as it gets, Wiking writes.
Home is where the hygge is...
Another significant hygge factor? Shelter, that is, the home. Your home is a sanctuary, a place that is warm, relaxing and safe. And while Nordic design is all the rage with its neutral palette, blend of style and function, and materials sourced from nature, hygge is not so much about furnishings and décor as it is a welcoming atmosphere and simple comfort food. If you're looking to cook hygge-style, check out Trine Hahnemann's Scandinavian Comfort Food: Embracing the Art of Hygge, which capture the fun and camaraderie of entertaining at home.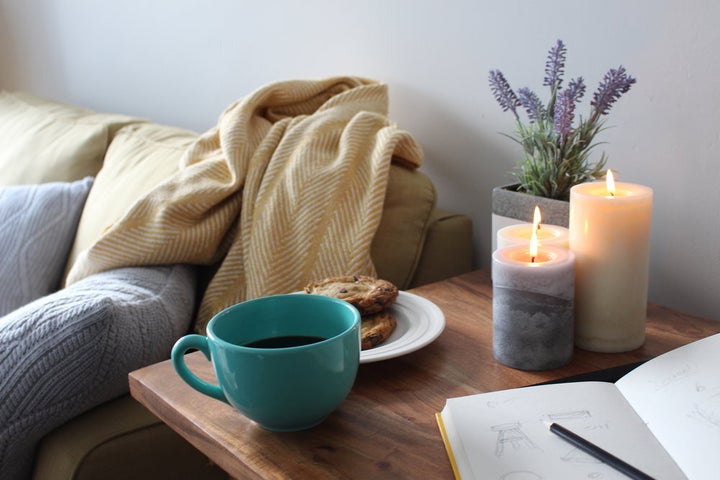 Of course, you can hygge in restaurants too or just outside of them, if like many Danes, you enjoy dining outdoors. Certainly that's what struck my daughter and me as we strolled through Copenhagen's busy Amagertorv Square. Even though it was -3 degrees Celsius out and a wet snow was falling, people wined and dined on the canopied patios sitting around tables next to heaters, wrapped in the blankets the restaurants provide.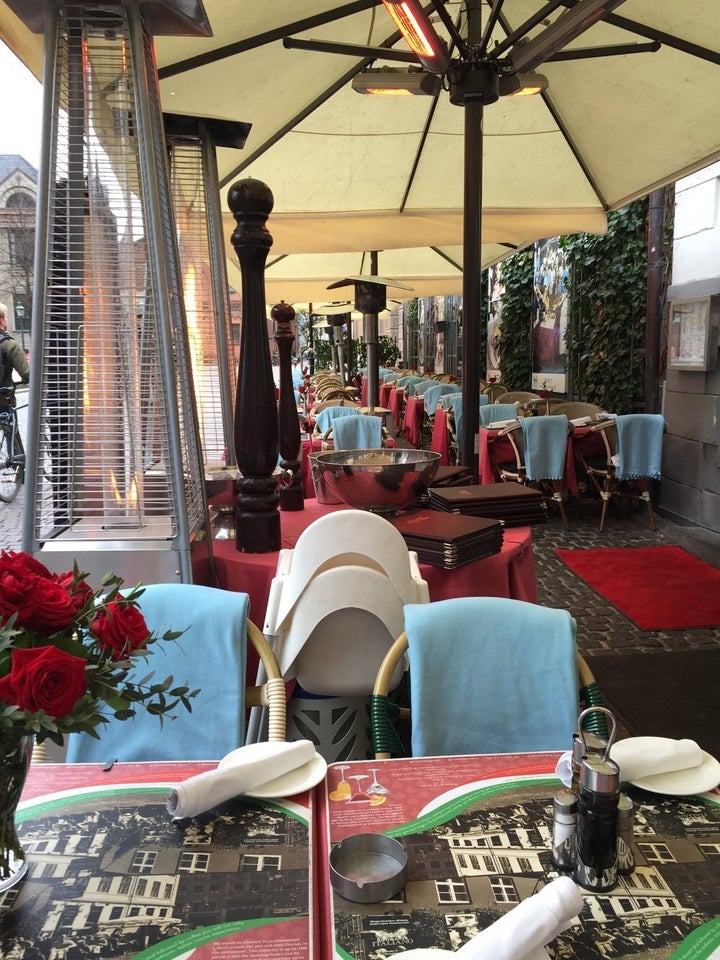 But, our ultimate hygge moment came on our final night in Copenhagen when a friend of Samantha's from Canada who lives in Denmark invited us to join him and yet another Canadian who was in town at his apartment to just hang out. The evening was straight out of the hygge playbook. Gather just the right number of people around the table, light a few candles, set out snacks and wine. Oh, and when we're not exchanging interesting ideas, it's okay to just sit back and listen to the sound of sleet pelting against the windowpane.
Wait a minute. I've experienced this sense of well-being back home. Of course I have! As Canadians, we already have all the hygge trappings so maybe all we need to do is make time for more hyggelit moments. Then, we might rise from our current place as seventh-happiest nation in the world to, well, who knows how high?
Fika, lagom ... and the guy on the train
Here in Canada you'll often see folks walking to their place of work carrying a take-out cup of coffee, no doubt to sip it at their desk. In Sweden, coffee is more of a verb than a noun, and fika is akin to us saying "Let's do coffee." At least twice a day, Swedes fika, meaning they get together with a few friends, and enjoy a hot beverage accompanied by a treat.
In Stockholm, cafés abound with astonishing selections of little cakes and cookies, pastries and the like. So significant is fika to the culture, that most workplaces have fika rooms, a place you can settle in with co-workers to relax and chat. Cakes, brought from home and shared, are commonplace.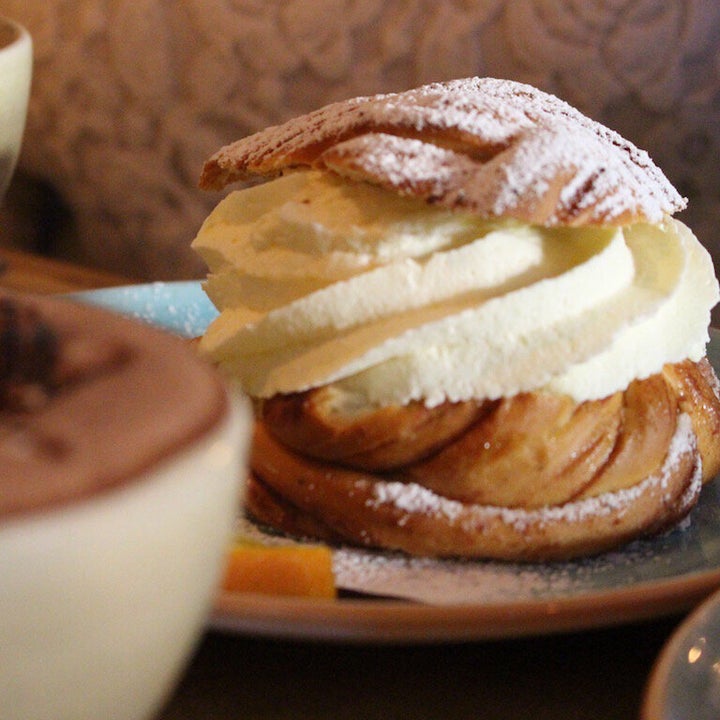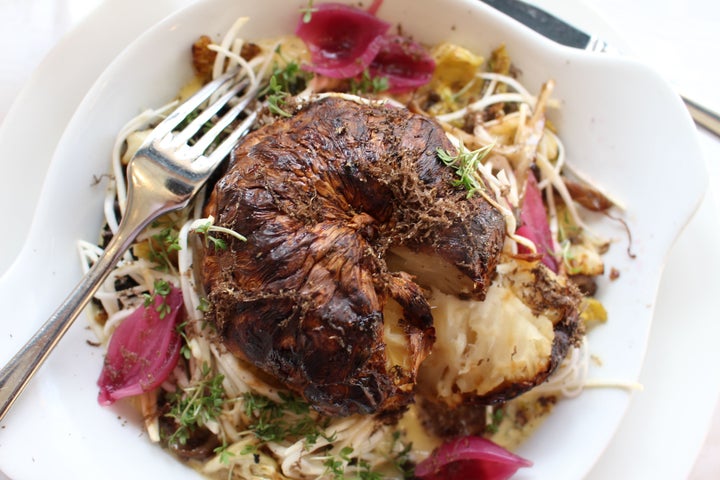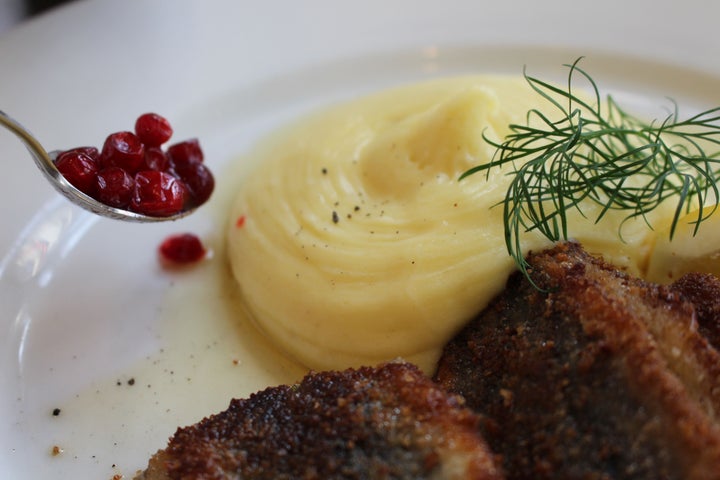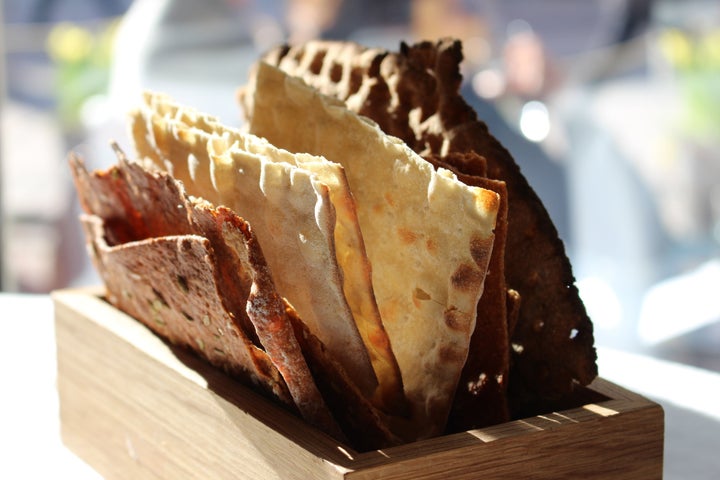 At first, then, in seems incongruous that fika and lagom come from the same land. Chitchats and sweet treats seem decadent and out of sync with lagom, the Swedish ethos that touts moderation and means not too little, not too much, just the right amount.
However, lagom isn't about deprivation but instead balancing wants with needs. It can be applied to everything from health and fitness to finances, food, environmental issues and even personality traits — be confident but not a braggart, for example.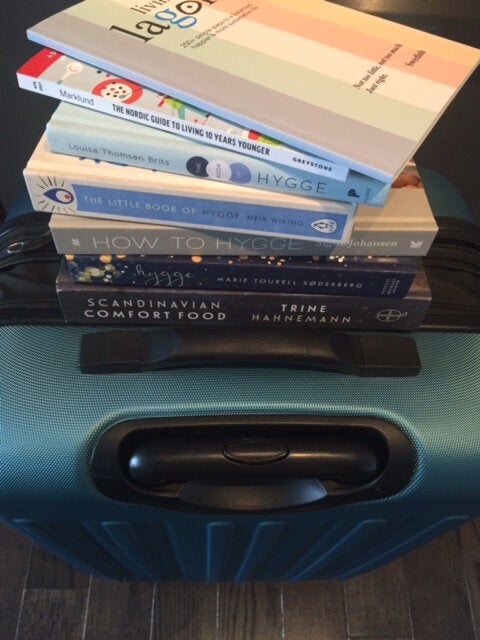 Hmph, somehow lagom doesn't seem as much fun as hygge but of course good health can go a long way towards happiness so it's worth a try.
Interestingly, on the train ride between Copenhagen and Stockholm, Samantha and I sat across from a man in his late 40s who was born and raised in southern Denmark but had moved to Sweden a decade earlier. When we told him about how Scandinavian lifestyle trends are getting big in North America, he seemed put off by the notion that folks were buying books about the subjects.
"You can't learn hygge, and you certainly can't plan it," he said. "That would ruin it. Hygge just happens. It's like sex. If I call my wife and say let's have sex tonight at 8:05 pm, that would wreck it, right?"
He seemed to expect an answer and my daughter shot me a look.
"Okay," I said moving the conversation along. "What about lagom, what do you –"
"You're pronouncing it wrong. It's lar-gom."
Eventually, our train companion warmed up to the conversation and offered valuable insights. But we wondered afterward if his initial reticence came from a sense of disbelief that such an entrenched part of one's national identity can be exported. Could there be how-to tomes dedicated to being Canadian that teach people how to be innately polite, say? Perhaps not, but surely the world wouldn't be worse for trying. And surely, there's no harm in trying to incorporate a few Scandi lessons that involve slowing down and enjoying time with family and friends. In fact, it might be good to create a few more idyllic moments — you know, like window displays, only in real life.