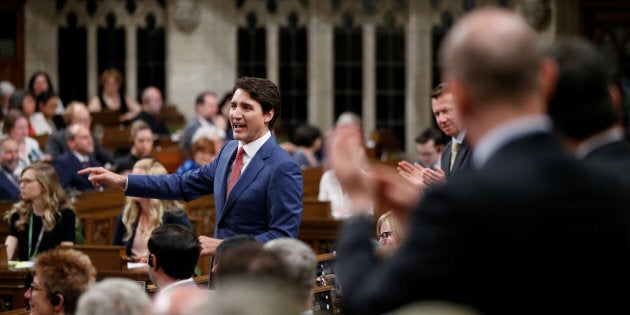 Prime Minister Justin Trudeau says Canadians will be allowed to legally buy and use recreational marijuana on Oct. 17.
The Trudeau government initially aimed to have pot legal by the summer, but seven months of study in Senate extended that timeline. The government settled on the fall date after provinces and territories asked for eight to 12 weeks after royal assent to implement their own systems.
Tory MP Pierre Paul-Hus pressed Trudeau in question period on whether he will respect the decision of governments in Quebec and Manitoba to ban home-grown pot. The Liberals' Bill C-45 permits Canadians to grow up to four plants per dwelling.
The prime minister did not directly answer that question but said his government has worked in partnership with provinces to take money away from organized crime and protect kids.
"We've been listening to the provinces who have been asking for more time to implement (the bill)," Trudeau said. "That's why we're accepting the request of the provinces and we will be legalizing it as Oct. 17, 2018."
Immediately after question period, NDP MP Don Davies lauded the passage of Bill C-45 as something that will end nearly 100 years of prohibition for an activity that most Canadians accept.
But in a sign of another debate that is still to come, Davies failed to gain the unanimous consent of the House for a motion calling on the government to "immediately provide pardons for those burdened by criminal records for cannabis offences that will soon be legal."
At a later press conference in Ottawa marking the start of summer break for MPs, Trudeau said it would be "illogical" to tackle the issue of amnesty for pot charges when the old law is still in place.
"Until the actual coming into force date happens and the law has changed, there's no point looking at pardons while the old law is on the books," Trudeau told reporters. "Between now and then, the current regime stays."
The prime minister said his government will continue to work with provinces to make sure this change happens successfully.
"I think we all agree it's important to get this right and not rushed," he said.
Trudeau said provinces asked for a "certain amount of time to get their brick and mortar stores" and online outlets prepared for legalization, something he called a "process" rather than an event for a single day.
"It is our hope that as of Oct. 17 there will be a smooth operation of retail cannabis outlets operated by the provinces, with an online mail delivery system operated by the provinces, that will ensure that this happens in an orderly fashion."